Automated Software Testing Interview Questions You'll Most Likely Be Asked
Regular price
$34.99 USD
Sale price
$27.99 USD
Unit price
per
Sale
Sold out
Share
270 Automated Software Testing Interview Questions
77 HR Interview Questions
Real life scenario based questions
Strategies to respond to interview questions
2 Aptitude Tests
BOOK SAMPLE
Bibliographic Details

Pages: 198 pages

Paperback (ISBN): 9781946383808

eBook (ISBN):9781946383815 

Trim Size: 5.5" x 8.5"

Category: Computers / Quality Assurance & Testing

Author: Vibrant Publishers
Description

Automated Software Testing Interview Questionsis a perfect companion to stand above the rest in today's competitive job market. Rather than going through comprehensive, textbook-sized reference guides, this book includes only the information required for an ongoing job search for a career in IT.

The book includes:

• 270 Automated Software TestingInterview Questions, Answers and proven strategies for getting hired as an IT professional

• Dozensresponse examples to interview questions

• 77 HRQuestions with Answers and proven strategies to give specific, impressive answers to nail interviews

• 2 Aptitude Testsdownload from www.vibrantpublishers.com
About the Author

Vibrant Publishers is focused on presenting the best texts for learning about technology and business as well as books for test preparation. Categories include programming, operating systems and other texts focused on IT. In addition, a series of books helps professionals in their own disciplines learn the business skills needed in their professional growth.

Vibrant Publishers has a standardized test preparation series covering the GMAT, GRE and SAT, providing ample study and practice material in a simple and well organized format, helping students get closer to their dream universities.
About the Series

This book is part of the Job Interview Questions series that has more than 75 books dedicated to technical interview questions and answers for different interview subjects and HR-related topics.
This series of books has been written by experienced placement consultants and subject matter experts. Available in paperback and ebook form as well, these IT interview questions will help job aspirants ace their interviews and start their dream career.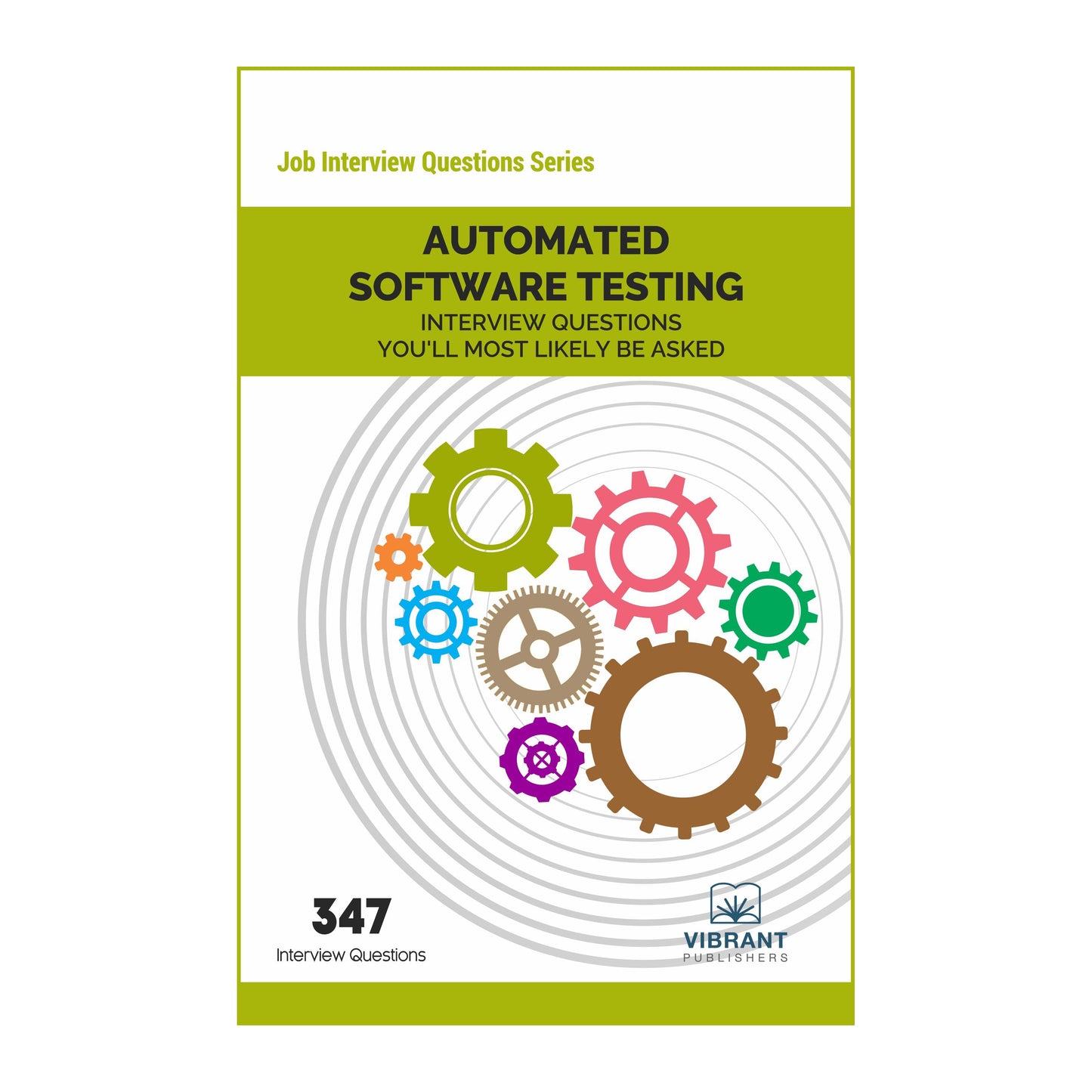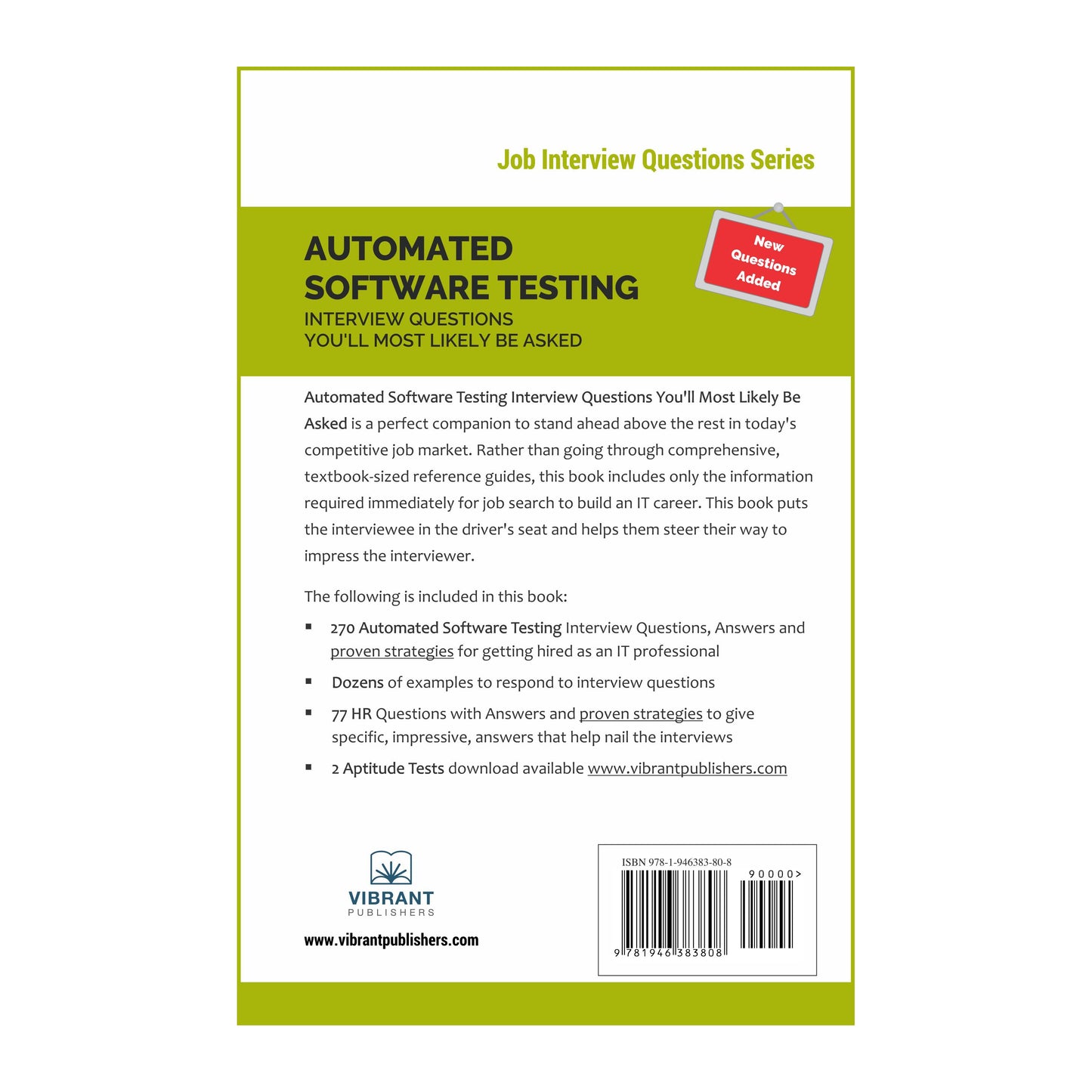 Software Testing Interview Questions Youll Most Likely Be Asked
This book should be seen as a collection of testing-related questions. That way, content of the book is good with very sensible answers.
Software Testing Interview Questions Youll Most Likely Be Asked
The book covers practically all the interview questions you might get in US job market. For each and every question you might find easily 5-10 different opinions by browsing the web. But if you need just one, which is good enough to help you look good at the time of an interview that is a quality book!!! Mine already has about 100 yellow highlights I made for the future use.
My personal suggestion if you are thinking of a specific question answered start with the Index at the end of the book. It is very nice and helpful. I would rather place it at the books beginning.
Software Testing Interview Questions Youll Most Likely Be Asked
Looking for a way to prep for your next interview? Then you should definitely check out ORACLE PL/SQL Interview Questions Youll Most Likely Be Asked (Job Interview Questions Series Book 12). I used it a lot when prepping for a few interviews, and I felt much more prepared than I previously have. What I liked about this book, compared to some other helpful interview tips or frequently asked questions that I have found, is the depth that this book went into. Not only does the book cover a lot of useful interview topics and gets all the information fresh in your mind, but the answers provide examples and present multiple options. Under each question in the book, there are long-form answers that give a lot of depth, and plenty of the questions have five or more possible answers so that you can see different possible ways to answer those questions. The questions range from the more technical ones that show your potential employer your knowledge and skill to questions that are more about you as an employee. These questions tend to have more to do with how you handle pressure, why you left your last job, or how you work with others. There are over seventy questions in this book, so if you are able to work through the book, you can be sure that you have thought about nearly any question that you might be asked in an interview. If not word for word, then at least a close approximation. This book definitely made me feel better going into interviews. Especially if you get very anxious before the interview, this is a great way to use your anxious energy on a productive outlet, and you will probably feel better when you go into your interview.
Software Testing Interview Questions Youll Most Likely Be Asked
Indepth guide, really helpful! I bought this book as the aptitude tests and other formalities for college placements have started. Honestly i think after reading this book I feel more confident and prepared for any interview. Quite a lot of questions in the book have multiple in depth answers. This book tackles questions that I otherwise wouldnt have thought about. If you need a quick resource you can skim through before an interview, this book is for you