GMAT Analytical Writing: Solutions to the Real Argument Topics
Regular price
$43.99 USD
Sale price
$30.49 USD
Unit price
per
Sale
Sold out
Share
60 Solved Argument topics
Detailed and Expert Strategies to tackle the task
Overview of the Analytical Writing Assessment
Scoring Guide
BOOK SAMPLE
Bibliographic Details

Pages: 283 pages

Paperback (ISBN): 9781636511276

ebook (ISBN): 9781636511283

Trim Size: 8.5" x 11"

Category: Study Aids/GMAT

Author: Vibrant Publishers
Description

Do you have questions like: How can I write a GMAT-compliant essay for the test? Are there some strategies that I can follow to write a good essay?How is the essay really scored?

You will find answers to all your questions in this book! This book contains 60 Solved Argument topics that are written in a GMAT-compliant manner. By reading the arguments and the essays on them, you will gain a deeper understanding of how to approach the argument in the actual test and write a good essay.

All the essays have detailed strategies that will teach you how to organize your thoughts and present them in a coherent manner. You will also learn to think about alternate opinions/assumptions that will improve your critical thinking skills. The book also comes with an Overview of the Analytical Writing Assessment and a Scoring Guide to give you a concrete idea of the task and the scoring procedure.
About the Author

Vibrant Publishers is focused on presenting the best texts for learning about technology and business as well as books for test preparation. Categories include programming, operating systems and other texts focused on IT. In addition, a series of books helps professionals in their own disciplines learn the business skills needed in their professional growth.

Vibrant Publishers has a standardized test preparation series covering the GMAT, GRE and SAT, providing ample study and practice material in a simple and well organized format, helping students get closer to their dream universities.
About the Series

About Test Prep Series The focus of the Test Prep Series is to make test preparation streamlined and fruitful for competitive exam aspirants. Students preparing for the entrance exams now have access to the most comprehensive series of prep guides for GRE, GMAT, and SAT preparation. All the books in this series are thoroughly researched, frequently updated, and packed with relevant content that has been prepared by authors with more than a decade of experience in the field.
Editorial Reviews

GMAT Analytical Writing: Solutions to the Real Argument Topics is the only test prep for the GMAT essay that you will need. The arguments, strategies, assumptions, and sample essays really help the student understand how to write a persuasive essay. The book even describes the sections and time limits of the test. Excellent way to prepare!

- Carlene Morrison,                   

Independence County Library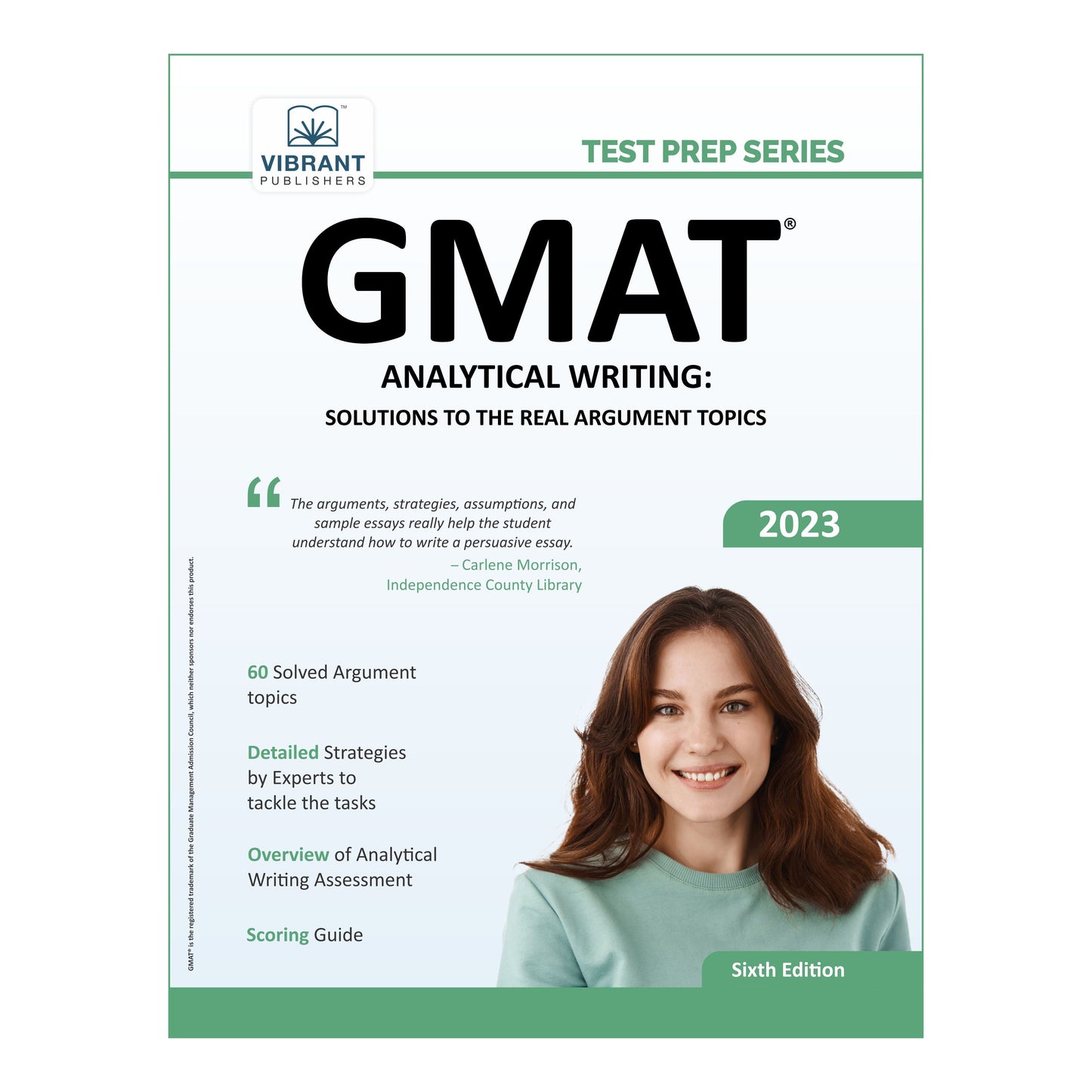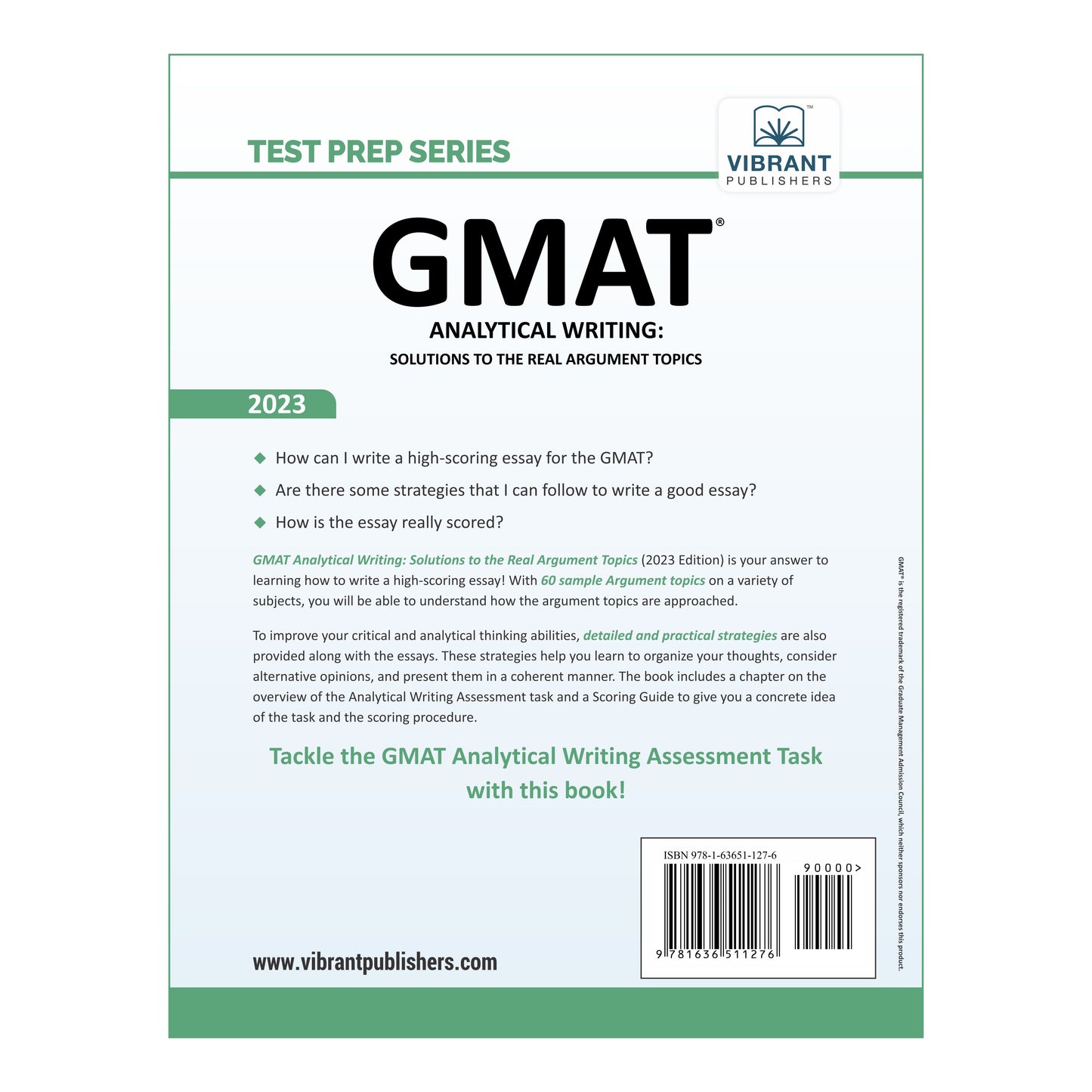 GMAT Analytical Writing: Solutions to the Real Argument Topics
I used this book more to help learn CR and less to learn about essays.
The book does a good job of discussing and dissecting the arguments. Just read through 2 to 3 passages everyday and you will get a good hang of how to approach essays as well as CR on GMAT.
GMAT Analytical Writing: Solutions to the Real Argument Topics
Okay, is it really bad to simply order this book, because of the beautiful woman on the cover? I didnt order it, but close though
GMAT Analytical Writing: Solutions to the Real Argument Topics
Good one to gain a fair understanding on AWA and sample qns are really good.
GMAT Analytical Writing: Solutions to the Real Argument Topics
I like the way the arguments are organised, however, it is fraught with typographical errors. The arguments do tend to go off topic at times and may not really present valid points that may critique the question stem. Good for an introduction. Dont get too involved with it though.
GMAT Analytical Writing: Solutions to the Real Argument Topics
Vibrant Publishers has come up with a rather amazing book here a stern but able to be mastered study on how to analyze an argument for the Graduate Management Admissions Council test. This reader was not aware that there was even a resource for preparing students who are applying to business or management programs, but after reading this guide there is so much useful information here that everyone involved in management or who is running a business should take advantage of and to know to make their roles successful.
The book is divided into four sections: Analytical Writing Assessment (evaluating posed questions, finding the core of the question, and responding appropriately), Integrated Reasoning, Quantitative, and Verbal. In a uniform manner each section begins with a sample question with examples of responses included that gradually mold the mind to think in terms of what the question is really asking. The driver here is to develop a sense of creating a defensible and thoroughly prepared argument while at the same time being able to analyze the strengths and weaknesses of the argument presented. There are time factors involved specific amounts of time to write and essay response and at each level the readers accomplishments to date are evaluated.
In all there are fifty sample Analyze an Argument essays with all the before, during and after information needed to make the student succeed in mastering this fascinating and Very Important level of preparation for the GMAT. It is tough to imagine facing the exams without the preparation this book offers. Grady Harp, November 12