GRE Reading Comprehension: Detailed Solutions to 325 Questions
Regular price
$43.99 USD
Sale price
$30.49 USD
Unit price
per
Sale
Sold out
Share
Check Out the New Edition of this Book here!
325 Reading Comprehension questions
Explanatory Answers
Tips and Strategies
Overview of the GRE
Stress Management Tips (online)
6-month and 8-week study plans (online)
BOOK SAMPLE
Bibliographic Details

Pages: 457 pages

Paperback (ISBN): 9781636511313

eBook (ISBN): 9781636511320

Trim Size: 8.5" X 11"

Category: Study Aids/GRE

Author: Vibrant Publishers
Description

This book is your go-to guide for learning to answer all types of reading comprehension questions asked in the GRE. A total of 325 questions on various kinds of passages will give you a comprehensive practice of answering reading comprehension questions. With the help of explanatory answers that point out why an option is correct or incorrect, you will learn to think critically and logically.

The book does not just give you practice questions to solve but also includes expert tips and strategies that will help you learn how to analyze a passage,interpret its meaning, and quickly answer questions based on it. You will also get to know the types of questions asked and skills tested with Reading Comprehension questions. Additionally, an overview of the GRE General Test will take you through the format and scoring procedure of the test.

Additional Online Resources The book comes with a Stress management ebook that includes a 6-month and an 8-week study plan and tips and strategies to manage stress.
About the Author

Vibrant Publishers is focused on presenting the best texts for learning about technology and business as well as books for test preparation. Categories include programming, operating systems and other texts focused on IT. In addition, a series of books helps professionals in their own disciplines learn the business skills needed in their professional growth.

Vibrant Publishers has a standardized test preparation series covering the GMAT, GRE and SAT, providing ample study and practice material in a simple and well organized format, helping students get closer to their dream universities.
About the Series

The focus of the Test Prep Series is to make test preparation streamlined and fruitful for competitive exam aspirants. Students preparing for the entrance exams can now access the most comprehensive series of prep guides for GRE, GMAT, ACT, and SAT preparation. All the books in this series are thoroughly researched, frequently updated, and packed with relevant content that has been prepared by authors with more than a decade of experience in the field.
Editorial Reviews

The 6th edition of the GRE Reading Comprehension: Detailed Solutions to 325 Questions book, lays out many different questions covering five disciplines. lt also has a handy section of questions about everyday topics - anything from sports to urban design, coffee, social media marketing and the second amendment. This updated edition is a well-rounded guide for anyone wishing to brush up on their reading comprehension skills. For the student who needs to pass the GRE, this guide will help them prepare for one of the most important things they could ever learn in life - how to comprehend what you read.

– Jeremy J. Freeman, Young

Adult Librarian,                       

North Mankato Taylor Library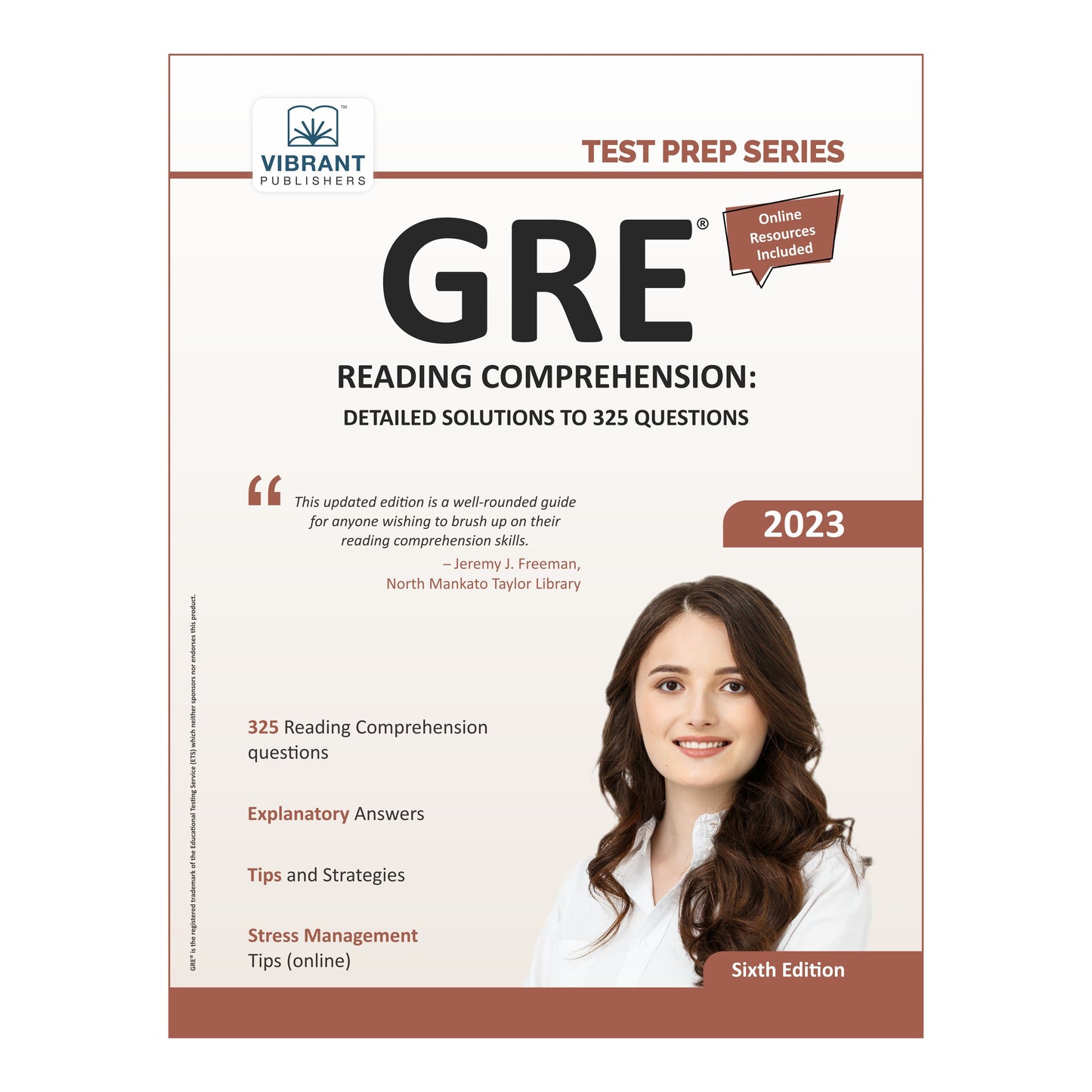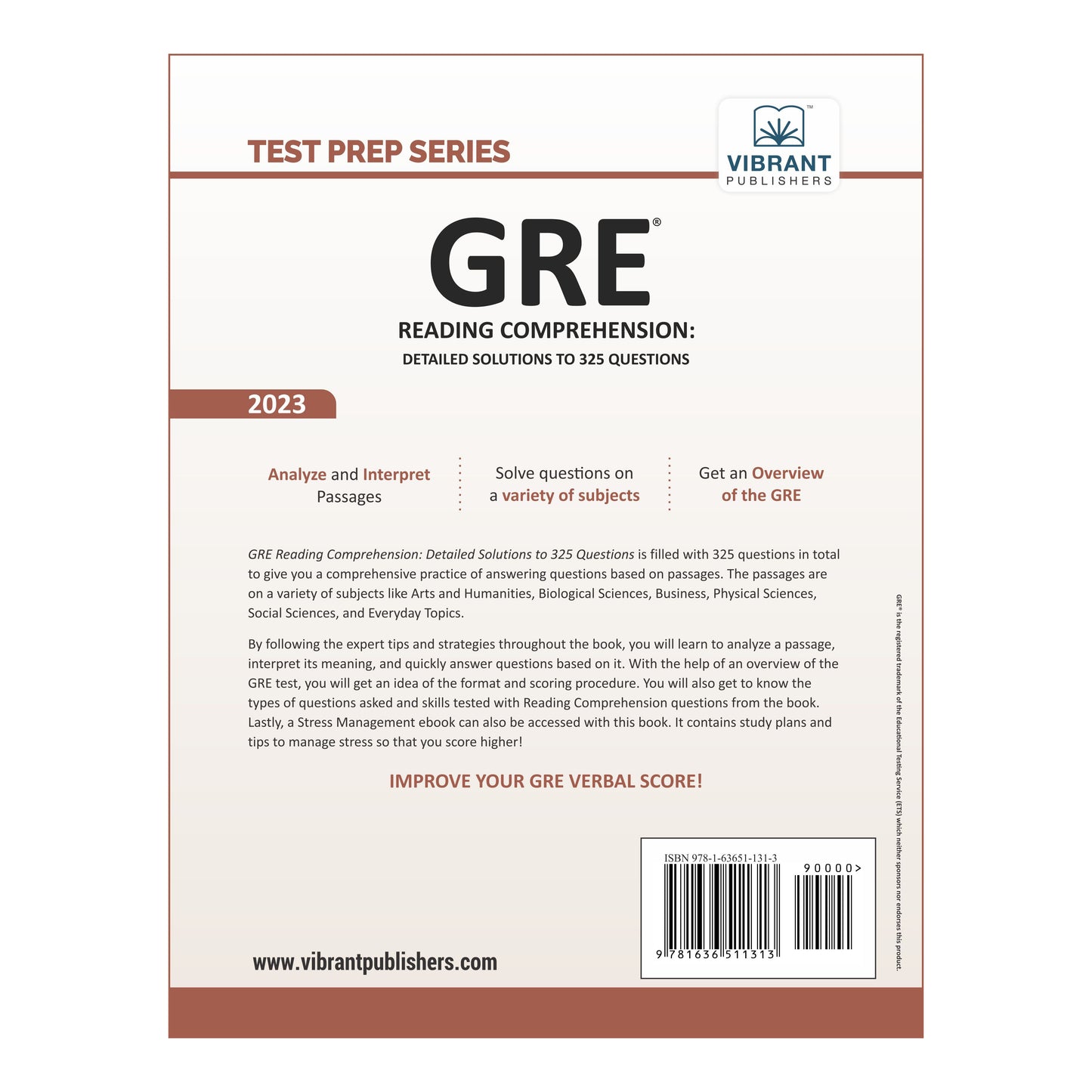 A helpful book not only for GRE aspirants but for anyone who is struggling with RC Passages
Reading Comprehensions are an integral part of almost every exam, and one can't run away from them no matter how hard they are. I have been struggling to find methods to work around for solving RC passages and thankfully came across this book. Although it targets at GRE RC passages specifically, there are many methods and approaches described in the initial pages which will help every student irrespective of a particular exam. I found them very informative.
Also I picked this one as of course I want to prepare for GRE, and not only it includes 325 RC passages segregated into different topics, but it also has all the information one needs to know about The GRE exam, how is it conducted, its pattern, marking system, time allotted, how to register etc. And the big and spaced out neat fonts were just icing on the cake. I strongly recommend this one to all the GRE aspirants and students struggling with RC Passages.
Useful
I recommend this book for anyone facing problem with reading comprehension.