Hadoop BIG DATA Interview Questions You'll Most Likely Be Asked
Regular price
$34.99 USD
Sale price
$27.99 USD
Unit price
per
Sale
Sold out
Share
200 Hadoop BIG DATA Interview Questions
76 HR Interview Questions
Real-life scenario-based questions
Strategies to respond to interview questions
2 Aptitude Tests
BOOK SAMPLE
Bibliographic Details

Pages: 160 pages

Paperback (ISBN): 9781946383488

eBook (ISBN): 9781946383495

Trim Size: 5.5" x 8.5"

Category: Computers / Databases & BIG DATA

Author: Vibrant Publishers
Description

Hadoop BIG DATA Interview Questions You'll Most Likely Be Askedis a perfect companion to stand ahead above the rest in today's competitive job market. Rather than going through comprehensive, textbook-sized reference guides, this book includes only the information required immediately for job search to build an IT career. This book puts the interviewee in the driver's seat and helps them steer their way to impress the interviewer.

Includes:

•Hadoop BIG DATA Interview Questions, Answers and proven strategies for getting hired as an IT professional

•Dozens of examples to respond to interview questions

•76 HR Questions with Answers and proven strategies to give specific, impressive, answers that help nail the interviews

•2 Aptitude Tests download available on www.vibrantpublishers.com
About the Author

Vibrant Publishers is focused on presenting the best texts for learning about technology and business as well as books for test preparation. Categories include programming, operating systems and other texts focused on IT. In addition, a series of books helps professionals in their own disciplines learn the business skills needed in their professional growth.

Vibrant Publishers has a standardized test preparation series covering the GMAT, GRE and SAT, providing ample study and practice material in a simple and well organized format, helping students get closer to their dream universities.
About the Series

This book is part of theJob Interview Questions series that has more than 75 books dedicated to technical interview questions and answers for different interview subjects and HR-related topics.
This series of books has been written by experienced placement consultants and subject matter experts. Available in paperback and ebook form as well, these IT interview questions will help job aspirants ace their interviews and start their dream career.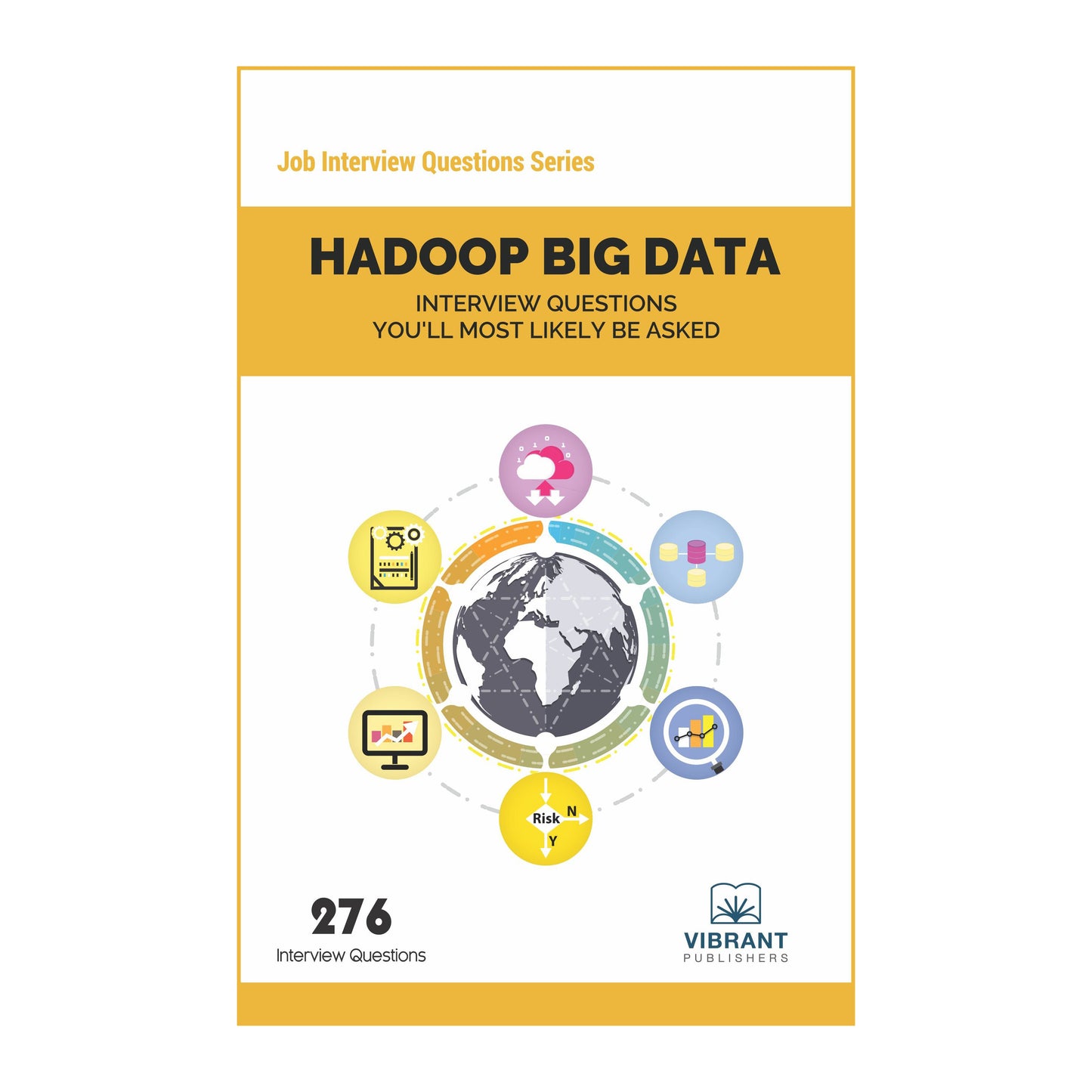 Hadoop BIG DATA Interview Questions Youll Most Likely Be Asked
Bought this one to check whats Hadoop Big Data!
I have been keen to learn more about Big Data and Hadoop. Went to amazon, checked books on Hadoop, found this one was the cheapest amongst the lot and had decent reviews, so thought let me try this one. My aim behind this book purchase was to understand the concepts of Big Data and Hadoop, so I thought, a book in Q n A format would work the best as it be a light read. As expected, this is a very simple Q n A book, the HR questions towards the end were not required. Giving this 5 stars!
Hadoop BIG DATA Interview Questions Youll Most Likely Be Asked
Most of the questions in this book focus on practical real life examples and scenarios.
Chapter 1 introduces Big DATA and Hadoop concepts in concise yet comprehensive manner, this one includes a lot of theory.
Chapter 2 onwards the author has mixed definitions along with real life scenario type questions very well. I like the way the whole book is organized.
Must say someone who is going in for an interview or someone who doesnt know a thing about Big DATA, this ones for you! I will give this book a 5/5.
PS: On reading the book further, I saw a couple of page formatting errors but I am going to ignore them and not change my * ratings.
Hadoop BIG DATA Interview Questions Youll Most Likely Be Asked
The book is short and the language is simple.
Topics are well-explained in short and in simple language.
A good book to quickly revise the big data concepts.
Definitely recommended to the students who are preparing for big data exams.
Easy and quick to prepare for the interview and exams.
It has a good set of HR questions.
You will learn a lot about how to do HR interview & how to answer HR questions.
Overall, good book for the preparation of exams and interviews but little expensive.
Hadoop BIG DATA Interview Questions Youll Most Likely Be Asked
Great kick-start gor any interview preparation.
Hadoop BIG DATA Interview Questions Youll Most Likely Be Asked
Nice little book on Hadoop interview questions. I specially loved the variety and the range of questions. Most of the important concepts of Hadoop are covered in detail. Unique questions which may land up in any technical interview. Also realised this book is good enough if you want to change seats and be an interviewer yourself!