Marketing Management Essentials You Always Wanted To Know
Regular price
$43.99 USD
Sale price
$31.63 USD
Unit price
per
Sale
Sold out
Share
Check Out the New Edition of this Book here!
Marketing Management concepts explained in a simplified way

Tools that can help you navigate your role as a marketing manager

How to use marketing to manage customer relationships

Understand the relationship between strategy and marketing
BOOK SAMPLE
Bibliographic Details

Pages: 158 pages

Paperback (ISBN): 9781949395792

eBook (ISBN): 9781949395808

Hardback (Color): 9781949395730

Trim Size: 5.5" x 8.5"

Category: Business & Economics

Author: Callie Daum
Description

A useful tool to create a strategic marketing plan to attract and retain new customers.

Marketing Management Essentials You Always Wanted To Know prepares marketing managers and leaders by instilling in them the building blocks of marketing management. This marketing management book takes the reader through the different stages of marketing and how they affect different levels of an organization. It provides tools to assist one with some of the more challenging aspects of marketing management such as SWOT analysis, measuring customer satisfaction, and developing a marketing plan. Understanding the relationship between strategy and marketing and applying it to decision making is a skill that is vital to today's marketing manager. After explaining the importance of managing marketing internally in your organization, the book will help one learn how to manage external customers and obtain their business.

Marketing Management Essentials You Always Wanted To Know gives a look into the world of marketing and some of its key elements. After reading this book, the reader will be able to:

Define marketing management in an organization and understand its functions and elements
Know the business responsibilities of a marketing manager and marketing department
Describe tools that can help you navigate the role of a marketing manager
Understand the relationship between strategy and marketing
Know how to use marketing to manage customer relationships
About the Author

Callie Daum has worked in the healthcare industry for over 20 years gaining experience in managing teams, project management, strategic development and implementation, business marketing to increase revenues, and many more lessons learned on how to thrive in a business industry. As a seasoned Senior Project Manager and Leader, her goals include adding value, working efficiently and effectively, and sharing best practices to achieve overall success.
About the Series

The Self-Learning Management Series is designed to help students, new managers, career switchers, and entrepreneurs learn essential management lessons and covers every aspect of business, from HR to Finance to Marketing to Operations across any and every industry. Each book includes basic fundamentals, important concepts, and standard and well-known principles as well as practical ways of application of the subject matter.
Editorial Reviews

A brilliant book. My students loved the ease of reading and the relatability of the text.

- Kristopher J. Patterson, Rutgers Business School

 

It's a great book and covers many of the important foundational concepts for an introductory course in marketing management.

- Jim Lecinski, Northwestern University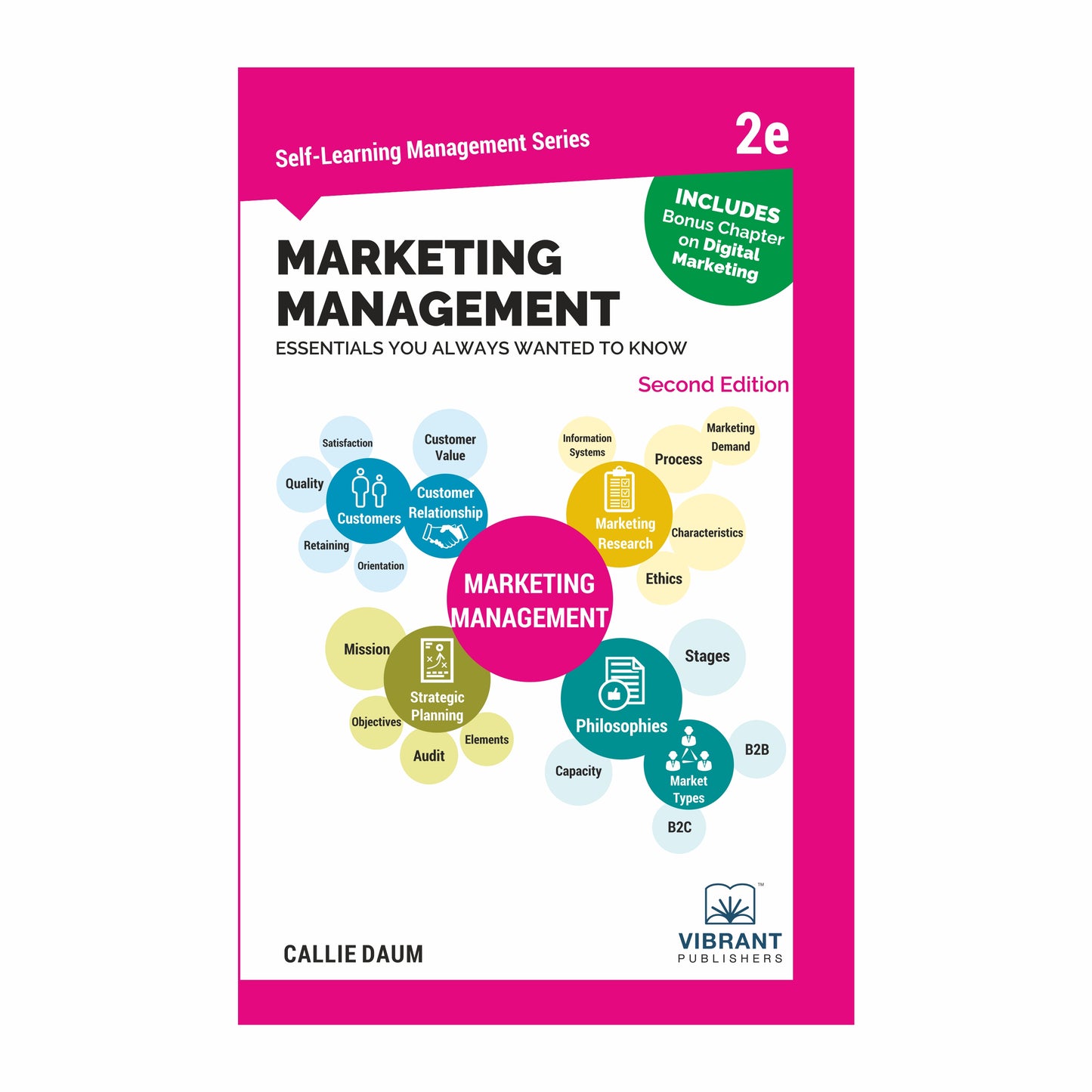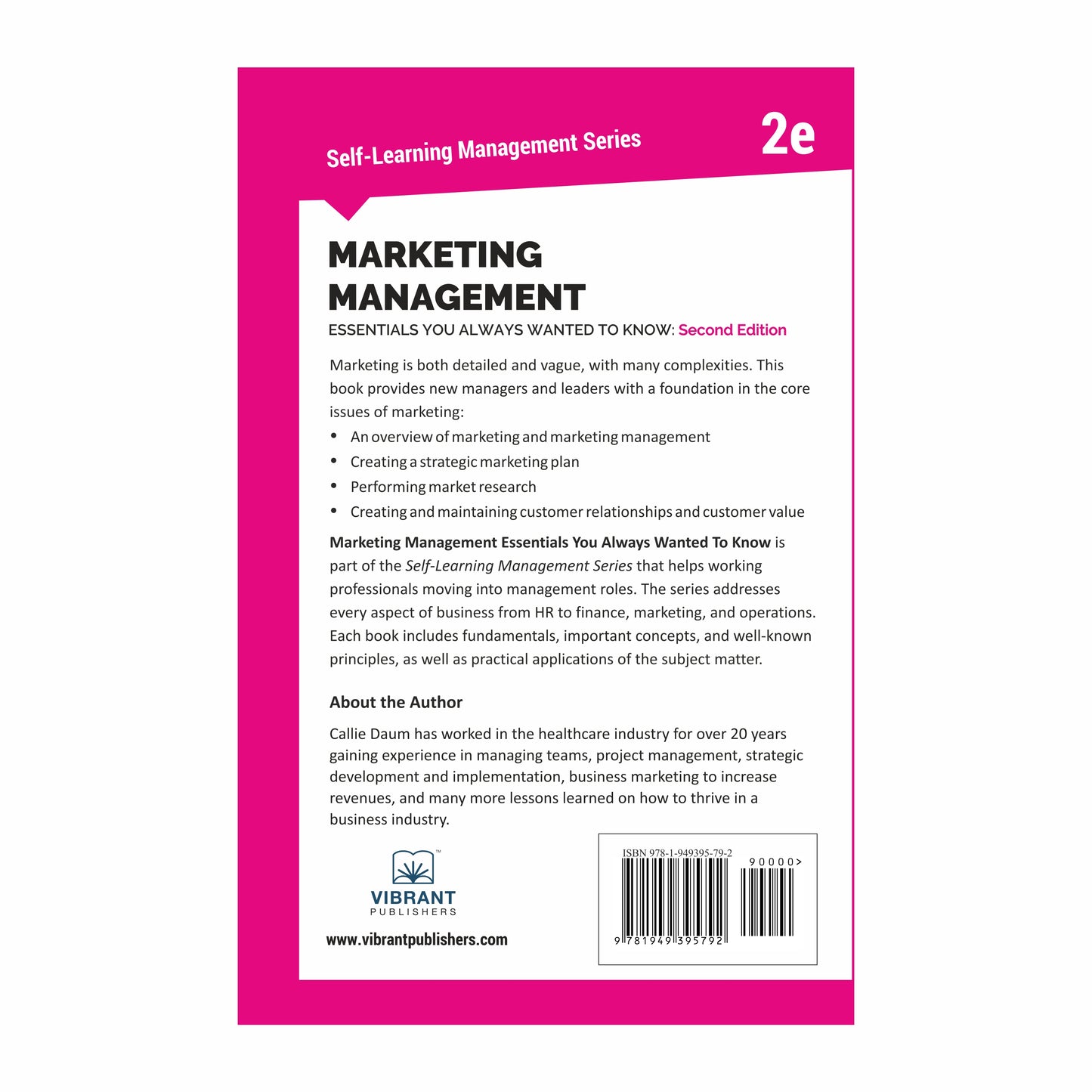 Marketing Management Essentials You Always Wanted To Know (Second Edition)
Marketing is a skill that is increasingly seen as a key differentiator in senior roles in any organization. This small handbook addresses the fundmentals of Marketing Management and presents it in a simple format for the reader to absorb.
The key topics included are:
Introduction to Marketing Management: Stages, Capacity, Demand
Strategic Planning and Management: Planning, Plan, Mission, Objectives, Audit, Implementation
Research in Marketing: Information Systems, Competition, Research, Demand, Definitions
Relationships with Customers & Marketing Mgmt: Customer Value, Satisfaction tracking, Relationship Marketing, Customer orientation, Expansion
Overall, it provides a valuable insight into the world of marketing. My opinion is that this is suited more for a beginner than a practicing marketing professionals.
The examples presented are spot-on and refer to the current scenarios.
Definitely a value for money buy!
Marketing Management Essentials You Always Wanted To Know (Second Edition)
Marketing Management Essentials You Always Wanted To Know (Self-Learning Management Series Book 7) is an incredibly relevant and useful book that explores marketing. The book is clear and concise in a way that made all of the information easy to digest. The tone of the book was engaging and also pushes the importance of marketing in our world. The very first sentence is Marketing affects everyone, every day. Not only is this statement true, but the explanation that this book provides proves that. We live in a world where marketing has incredible power over our business, so having a solid understanding of it is important. While this book is great if you are studying or working in marketing, I would also say that this book is a great read for everyone. It explains the information from a beginner standpoint, but some basic business knowledge is useful for working through the book. The book covers a nice large range of concepts from stockholding, transporting, merchandising, publicity, display, risk-taking, financing, advertising, public relations, and so much more. Having so much information in a well-organized book makes this an excellent tool for a wide range of people. You can quickly and clearly find the sections that are most relevant to filling the gaps in your knowledge that you need. The sections have clear headings and one to two paragraphs that give all the information you need to know about that concept. This book is from the Self-Learning series, which means that it is designed especially to be a learning tool that does not require an extra class, or peers to understand the information begin presented to you. Looking to get ahead in class, impress a boss, or simply want to grow your position or business? This book acts as your class, and I can say from personal experience that when you finish reading this book, your level of understanding of marketing management will be much higher.
Marketing Management Essentials You Always Wanted To Know (Second Edition)
The book contains lots of information regarding the management and its concepts. If you are new to the marketing field and want to learn quickly, I would suggest you this book because:
* Has just 100 pages
* Crisp points that can be understood by anyone.
* Easy understanding language.
* Vibrant and attractive colours that gives positive vibes.
* Details are upto the current trend.
So these would be the solid reasons for me to suggest this book to anyone into marketing field.
Marketing Management Essentials You Always Wanted To Know (Second Edition)
I have read this book continuously for 2 weeks and would like to share a review below
Plus point:
Content Quality: A very great book for understanding marketing subject as it is vast and got some of the most interesting facts you might wanna know
Has easy English written so that everyone can understand without the need of google translate
Printing quality: clear enough to read
Page quality: Its average page quality
Binding of the book: Normal binding
Price: Its ok if you like the first few pages from this review
Packaging: I received the book in perfect condition and in plastic sheet wrapper
My Pro tip:
The book can be used for marketing professional