Microeconomics Essentials You Always Wanted To Know
Regular price
$43.99 USD
Sale price
$35.19 USD
Unit price
per
Sale
Sold out
Share
Have you wondered how companies decide the price of their products?

What factors do companies consider while allocating their resources?

How does consumer behavior affect the factors of production?
BOOK SAMPLE
Bibliographic Details

Pages: 226 pages

Paperback (ISBN): 9781636511153

eBook (ISBN): 9781636511160

Hardback (Color): 9781636511177

Trim Size: 5.5" x 8.5"

Category: Business & Economics

Author:  Amlan Ray
Description

A go-to guide to understanding the building blocks of Microeconomics

Microeconomics Essentials You Always Wanted To Know has the answers to all your questions. The book shows how the demand of consumers affects the market supply and how price is a major determinant of them. Next, the book goes on to explain consumer behavior with the help of cardinal and ordinal utility approaches. The book dives deep into the functions of markets and the roles that they play in a booming or receding economy. Lastly, it touches upon the topic of international trade and its advantages for a country. It contains plenty of examples that are relevant to the real world which will make it easier for you to grasp the concepts.

Microeconomics Essentials You Always Wanted To Know is a go-to guide for understanding all the crucial concepts that form the building blocks of microeconomics.After reading this book, readers will:

Understand the basic concepts of Microeconomics
Learn the relationship between demand and supply
Get to know the various types of markets
Discover how prices of goods and services are determined
Understand the theory of factor pricing
Appreciate policy decisions related to taxation, interest rate, and international trade
About the Author

Prof. Amlan Ray is currently Senior Director & Dean at SRISIIM, New Delhi, a management and research Institution recognized by the Ministry of Science & Technology and Ministry of Education, Government of India. He has 27 years of experience working in Corporates, Consulting, Training, and Academia.

Amlan is a B.Tech., MBA, M.A. (Economics) and has submitted his Ph.D. thesis at Amrita Viswa Vidyapeetham, India in the area of International Trade. His corporate experience and research area lie in Economic Analysis, Digital Transformation, and International Business.
About the Series

The Self-Learning Management Series is designed to help students, new managers, career switchers, and entrepreneurs learn essential management lessons and covers every aspect of business, from HR to Finance to Marketing to Operations across any and every industry. Each book includes basic fundamentals, important concepts, and standard and well-known principles as well as practical ways of application of the subject matter.
Editorial Reviews

Microeconomics Essentials is a must-read for anyone looking for a solid foundation in microeconomics as it is presented in an easy-to-understand fashion. Student learning is enhanced with a variety of real-world applications of the material. The book can be used as a primary text in undergraduate microeconomics classes or as a useful supplement to more advanced courses. 

- Richard Roberts, Professor of Economics and Finance, Monmouth University

 

This book explains in a brief and concise way, by avoiding too many technicalities and focusing mostly on concepts that could be applied in real life. This book could be used as an introductory book for undergraduate students or even MBA students who do not have any background in business and/ economics. The end-of-chapter summaries and questions are easy and straightforward and are good reviews of the basics of the chapter.

- Indrit Hoxha, Associate Professor of Economics, Penn State Harrisburg School of Business Administration

 

This book can be hailed as a textbook since the entire subject matter has clarity of exposition and its simple, empirical, and graphical presentation of topics will be easy to understand. A summary at the end of the chapters is a good way to recapitulate information. Undergraduate students or anyone who is interested to understand the behaviour of an individual, firm, etc. will find this book useful. This book can be used in courses like BA Economics, BBA, and BCom. Starting with basic concepts, this book is written concisely yet comprehensively. This is an ideal book to help you to grasp the essentials of economics quickly and easily even if you're a novice.

- Dr.S.Padma Annakamu, Assistant Professor, Department of Economics, PSGRKCW

 

The layout and font of the book are perfect and standardised. For a beginner, this book gives a comprehensive coverage of all topics that they need to learn. The present NEP curriculum on economics will find this book a great facilitator.

- Prof Clement D Souza, Dean , school of Humanities and Associate professor of economics, St Joseph's University , Bangalore

 

This book has easy-to-understand content that will be beneficial for people from a non-economics background too. It provides basic understanding and knowledge of the fundamentals of economics and international trade.

- Dr. Raj Kumar Pammi, Assistant Professor, Centre for Wage Employment & Livelihoods (CWEL), National Institute of Rural Development & Panchayati Raj (NIRDPR)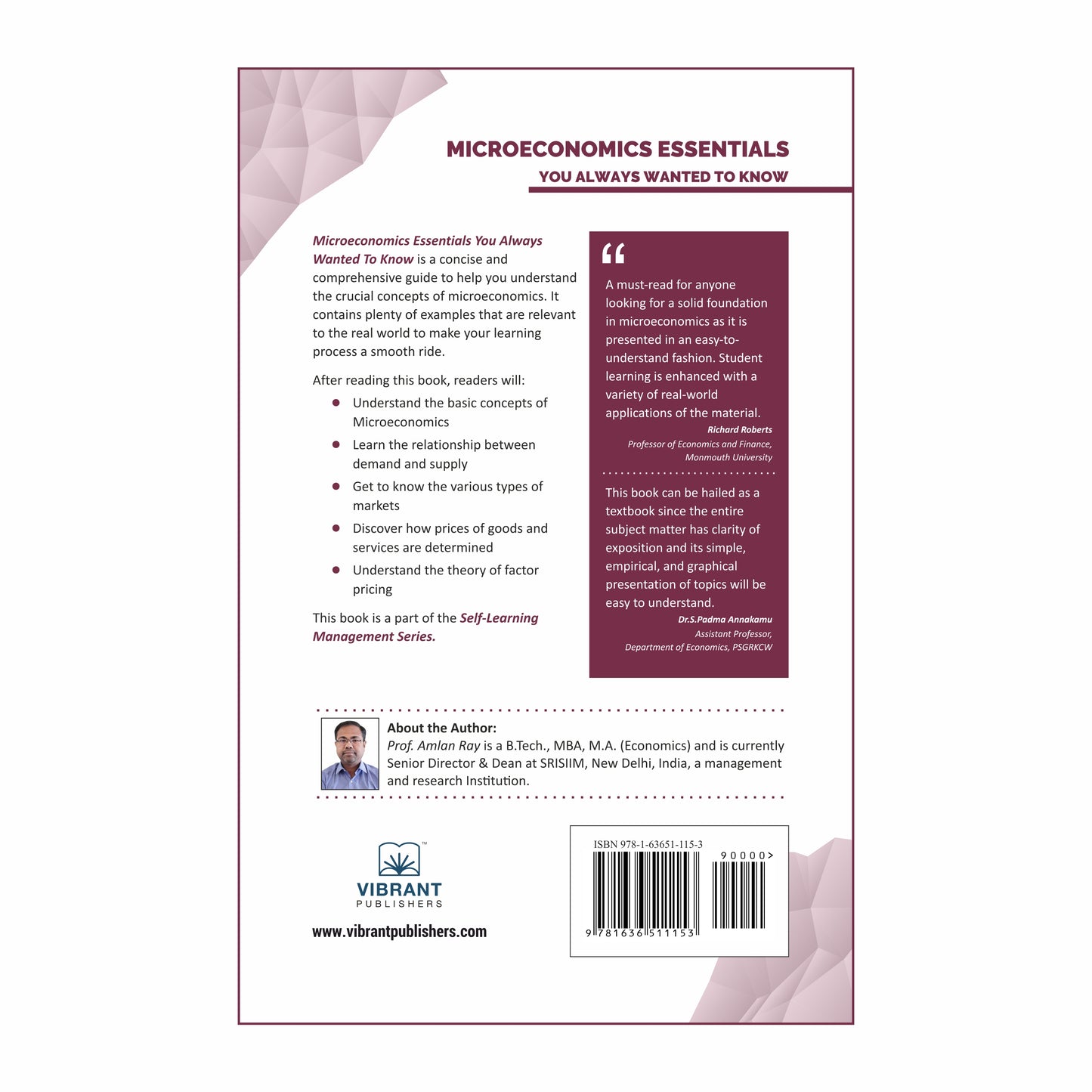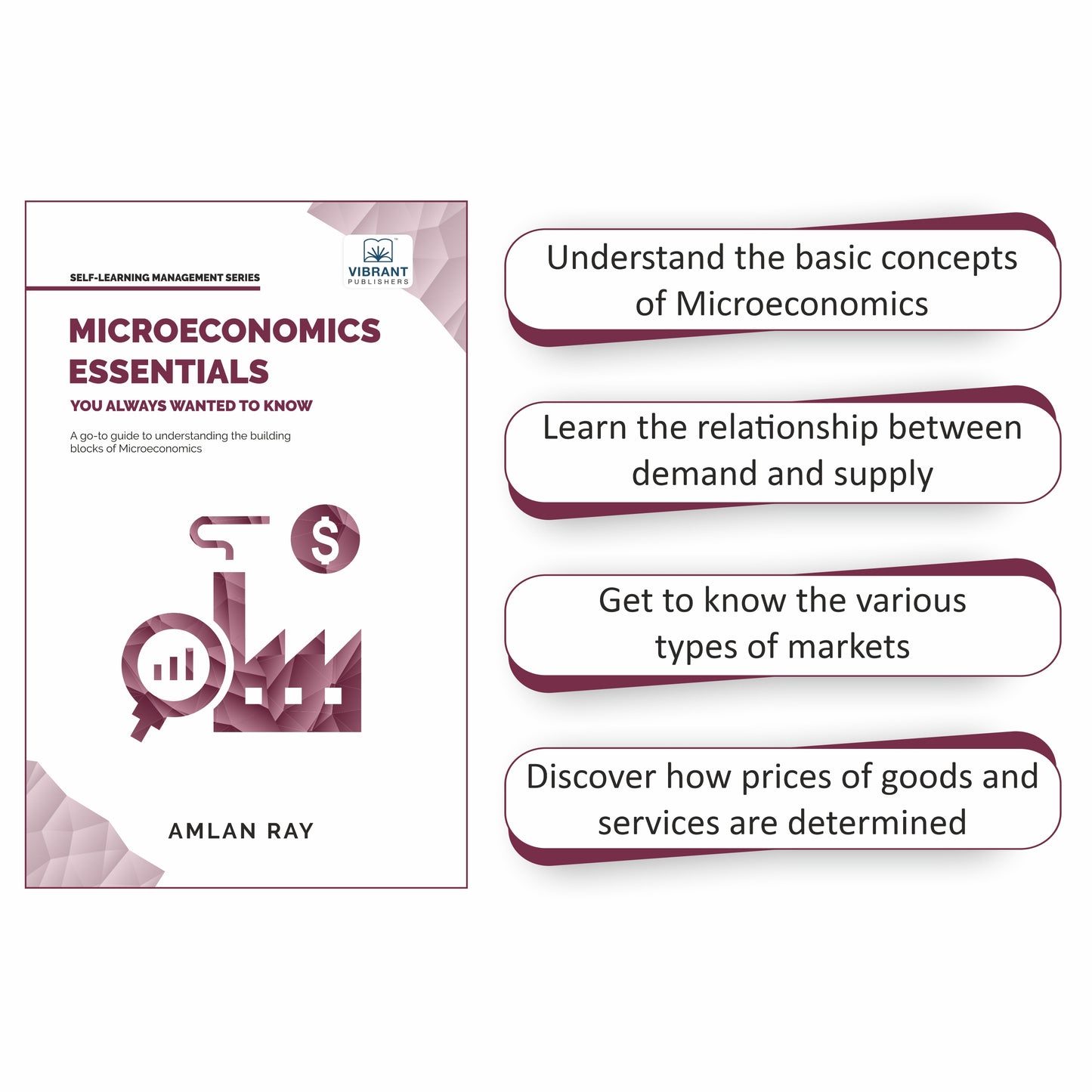 Best book
It's a good for students studying economics . Good content is there for students and have great theory and questions
Excellent
Excellent book so i recommend every student for the score of learning and smart ways of the exam will complete the best score
The leache
This is very nice book and so good
I appreciate writer that's why me giving 5star
Thanks for fast delivery by Amazon
Excellent book
Excellent book so i recommend every student for the score of learning and imagination of the best book 📚📚📚📚📚 happy
Perfect book for microeconomics
The best book for ug preparation for microeconomics ...
Questions with detailed solution.
And point to point mark
Must buy this ...