Operations and Supply Chain Management Essentials You Always Wanted To Know
Regular price
$43.99 USD
Sale price
$35.19 USD
Unit price
per
Sale
Sold out
Share
After reading this book, you will be able to answer the following questions:
What is Operations and Supply Chain Management and why is it important?
What are the key functions within this field, and how do they interact with one another and the broader business?
What are the responsibilities and decisions that managers in each functional area think about?
How will disruptions in the Supply Chain impact the business world and our lives going forward?
What are the practical applications of the knowledge gained around Supply Chain Operations?
BOOK SAMPLE
Bibliographic Details

Pages: 192 pages

Paperback (ISBN): 9781949395242

eBook (ISBN): 9781949395259

Hardback (Color): 9781949395655

Trim Size: 5.5" x 8.5"

Category: Business & Economics

Author:  Ashley McDonough
Description

A practical understanding of the dynamic, expanding, and evolving Supply Chains that make our daily lives possible.

Have you ever wondered what your peers meant by "Supply Chain" or "Operations", or why either of these fields matter? What about people that work in these roles – what do they actually do? InOperations and Supply Chain Management Essentials, these questions and more will be answered.

This useful guide uses a hypothetical company and the consumer product they make, to explain how the various functions within the Supply Chain intertwine to bring a finished product to life for consumers in the market. You will understand the story of how new demands, changing preferences, and unforeseen circumstances force this fictional company to adapt in order to survive. Through this book, you will understand and appreciate how these activities, including logistics and warehouse management, make everyday products and services available at our disposal - and why this is increasingly important for companies to pay attention to. The simple format and non-technical language of this book will attract even laypersons looking for a quick, comprehensive overview of supply chain management.
About the Author

Ashley McDonough is a Supply Chain and Finance professional who holds an M.B.A from the Hong Kong University of Science and Technology, one of the top M.B.A. programs in the world. She also holds a Bachelor's degree from the University of Minnesota, with an emphasis in Supply Chain, Operations Management, and Economics.
About the Series

The Self-Learning Management Series is designed to help students, new managers, career switchers, and entrepreneurs learn essential management lessons and covers every aspect of business, from HR to Finance to Marketing to Operations across any and every industry. Each book includes basic fundamentals, important concepts, and standard and well-known principles as well as practical ways of application of the subject matter.
Editorial Reviews

There is wonderful continuity told in plain language while bringing us through an example from the first phase through logistics.

- Readers' Favorite

 

Operations and Supply Chain Management Essentials You Always Wanted to Know by Ashley McDonough is a valuable book for anyone interested in first learning the concepts and also for those wanting an overview as well as explanations of specific concepts. It is excellent in its use of examples.
I think the book would be valuable for a junior level undergraduate class in SCM. Maybe a course that all business students should take to get a clear understanding of the concepts of the overall supply chain. The efforts to put together a relatively succinct text on OSCM is appreciated.

- Wendy L. Tate, Co-Editor in Chief, Journal of Purchase and Supply Management

 

User-friendly and not too technical
McDonough succeeds in making operations, supply chain management and logistics quite understandable to a non-technical audience, without losing the OSCM technical soul.

- Andrea Patrucco, The Pennsylvania State University

 

Overall, I believe the book is well written. I very much appreciate the condensed and concise presentation of the concepts. I especially like the use of an everyday object (scissors) as an example that the author extends throughout the book. The author has done a great job of checking the boxes on the traditional operations and supply chain functions. It is a great OSCM primer that would be best suited for undergraduate students, particularly for courses with students from all business functions (accounting, finance, marketing, management, etc.).
I would also be delighted to mention it to my colleagues as a potential resource.

- David A. Marshall, Eastern Michigan University

 

A good balance of theory and practicality

- Henry C. Alphin Jr., Higher Education Administrator, Researcher, and Economic Development Professional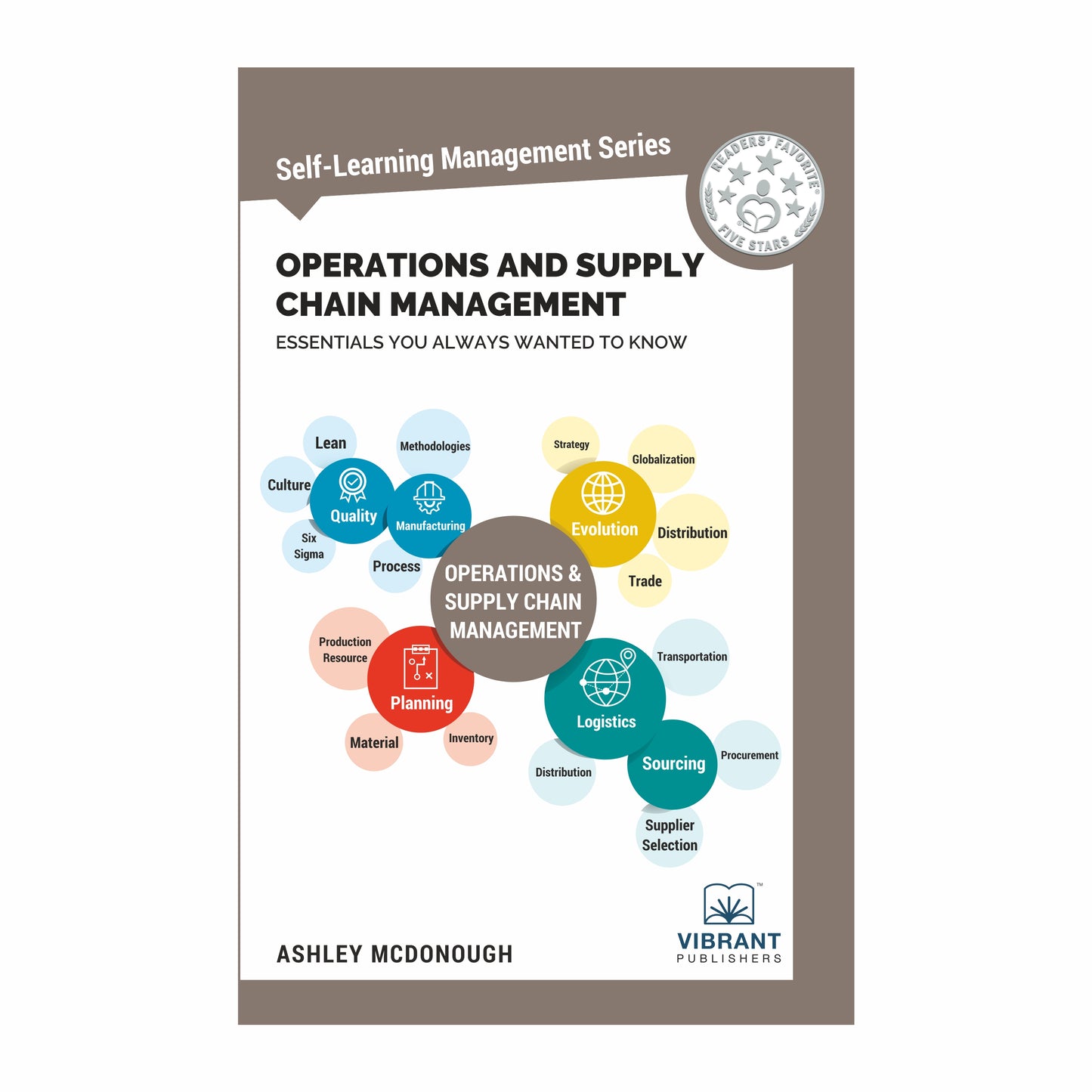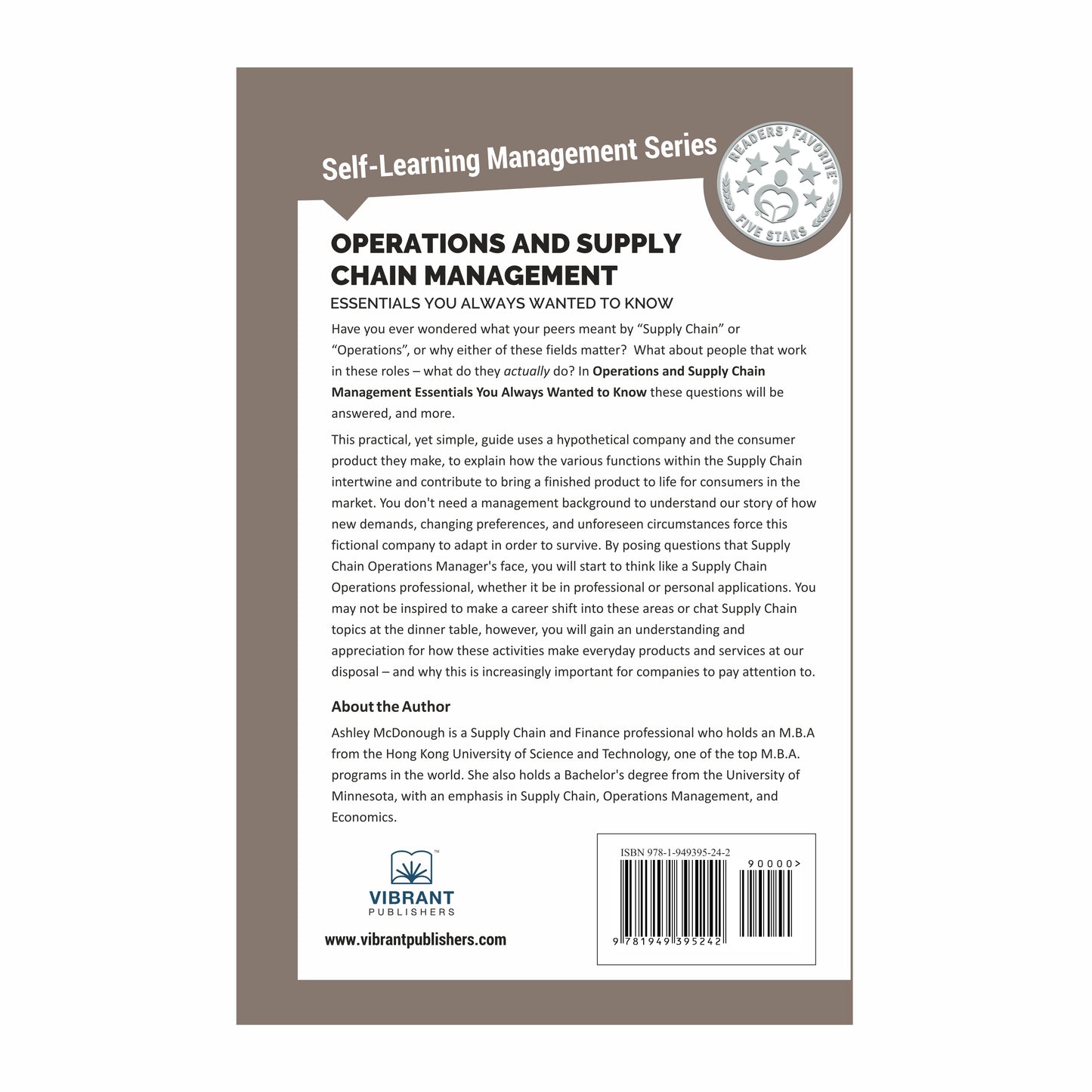 Great book
Very great book. Came quicker than expected. Very great condition!!
Simple & easy to understand
The author has done a great job at taking easy to understand examples to illustrate how each phase of the supply chain impacts a business
Perfect book to learn about supply chain management
Easy to understand, good text, good price.
I was looking for a knowledgeable book and found this book interesting and bought it.
After completing the reading, i can say that this book provides a excellent knowledge so far than other books i have read.
Worth it
Amazing book! Helped me clear out some of the cruicial concepts.