Agile Essentials You Always Wanted To Know
Regular price
$43.99 USD
Sale price
$35.19 USD
Unit price
per
Sale
Sold out
Share
Agile Manifesto Principles and Values

Scrum Pillars, Roles, and Artifacts

Agile Planning and Execution

Agile Project Management
BOOK SAMPLE
Bibliographic Details

Pages: 172 pages

Paperback (ISBN): 9781636510057

eBook (ISBN): 9781636510064

Hardback (Color): 9781636510071

Trim Size: 5.5" x 8.5"

Category: Business & Economics

Author: Kalpesh Ashar
Description

A blueprint to understanding agile methodologies and mastering agile project management.

Agile Essentials You Always Wanted To Know is a complete, compact and easily understandable guide for anyone wanting to learn the fundamentals of Agile.

Agile methodology can be greatly beneficial for many projects and organizations. But what exactly is Agile and is it always beneficial? Agile Essentials You Always Wanted To Know provides a primary understanding of the Agile development methodology, when it is appropriate to use it, and the commonly used Agile practices.By understanding Agile through this book, you will be able to adapt to the changing project requirements and complete your projects faster. If you want to optimize the workflow and learn to efficiently manage the various stages of a project, this book is the resource you need.

You will gain an understanding of the following concepts from this book:

An overall understanding of Agile, its methodologies and common practices
An introduction to Scrum, a key Agile methodology
The various aspects of Agile planning as well as execution
The applicability of Agile in development and operations
The concepts and practices in Agile tracking and reporting
An overview of Agile leadership and team practices
About the Author

Kalpesh Ashar is a management consultant and corporate trainer. He holds an MBA from SPJIMR, an Engineering degree, and Agile certifications including CSM (Certified Scrum Master), PMI-ACP (PMI-Agile Certified Practitioner), and SFPC – Scrum Foundations Professional Certificate. Mr. Ashar has over 21 years of experience in large organizations and start-ups in Asia, USA, and Europe. His background provides a platform from which to write in a way to help people with diverse backgrounds understand business topics.
About the Series

The Self-Learning Management Series is designed to help students, new managers, career switchers, and entrepreneurs learn essential management lessons and covers every aspect of business, from HR to Finance to Marketing to Operations across any and every industry. Each book includes basic fundamentals, important concepts, and standard and well-known principles as well as practical ways of application of the subject matter.
Editorial Reviews

An excellent introduction to Agile for the newcomer and an excellent review for the experienced practitioner

- Jose Solera, PMP, CSM, CSPO, CSP and Agile practitioner since the 1990s Short: Jose Solera, PMP, CSM, CSPO, CSP and Agile practitioner

 

Effectively outlines the key concepts that all Agile project leader, Scrum Master or Product Owner must know and master

- Tim Mills, MBA, MS, CPL, ITIL, SS-GB, CSM, PMP Lead Instructor, Agile Project Management Harvard Extension School Harvard University, Cambridge, MA USA Short: Tim Mills, PMP Lead Instructor, Harvard Extension School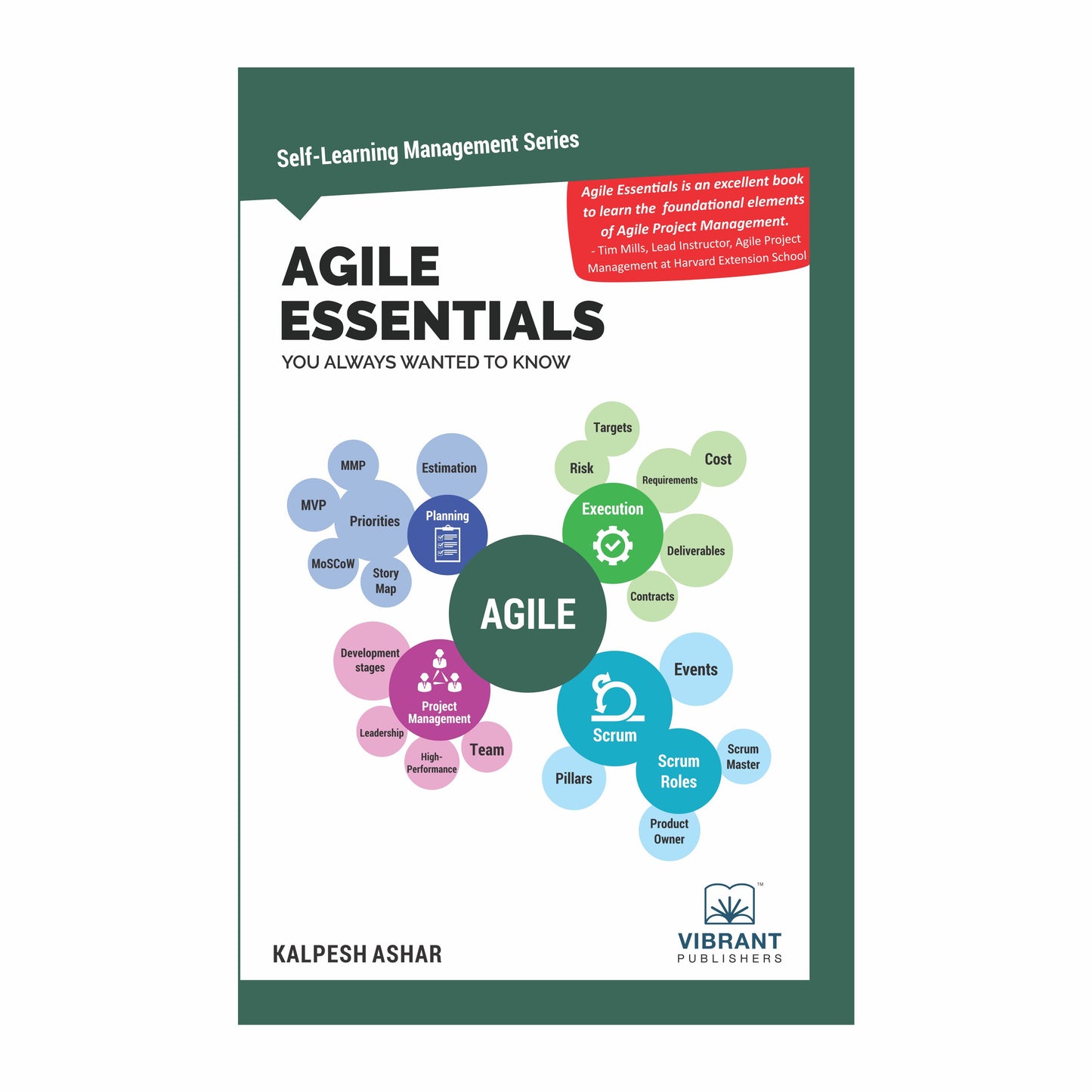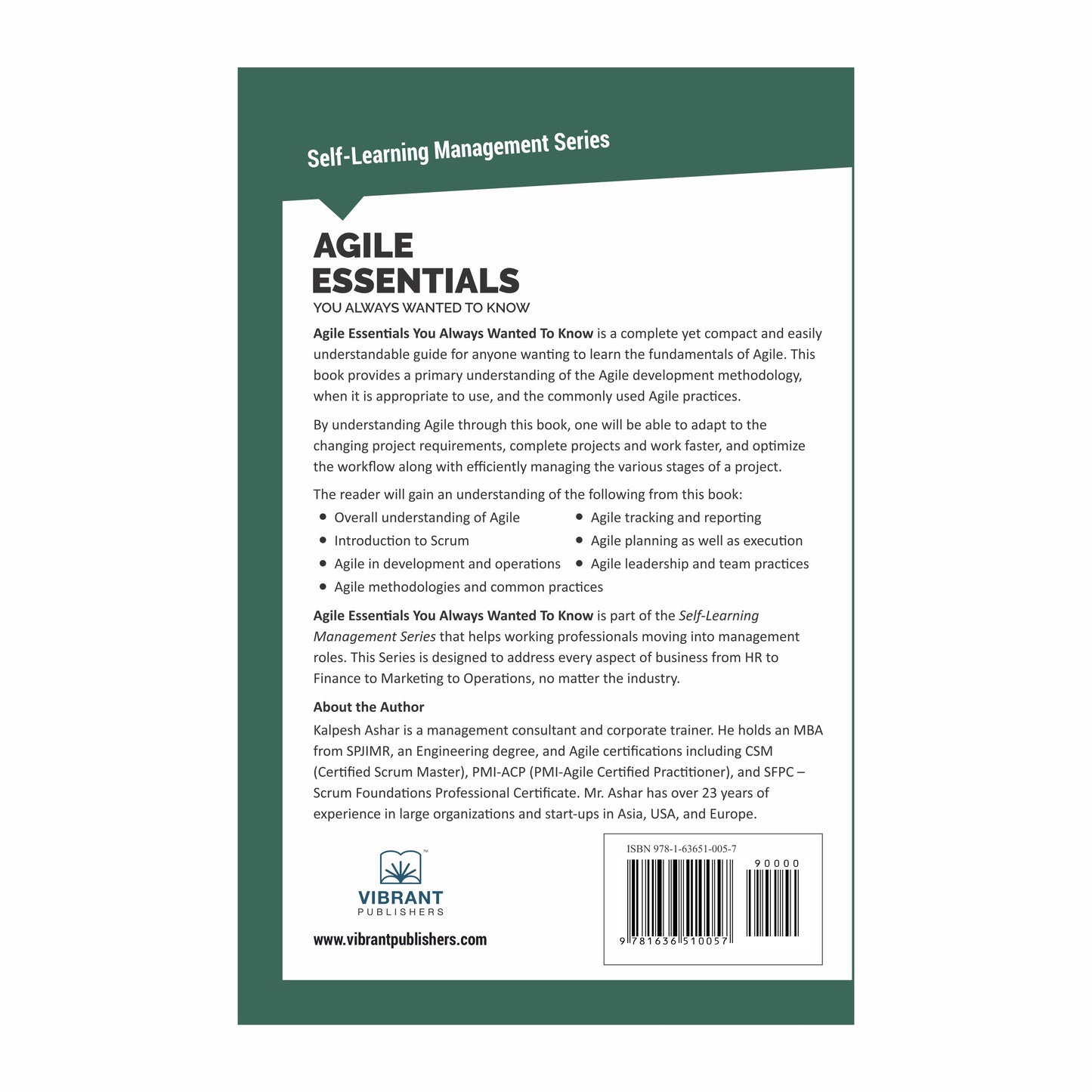 Very good book for Agile Basics
Very good book to understand Agile Basics.
One of the best titles for interview
Kalpesh has crystal clear understanding of the content written. One of best agile book read after a long time. Use it for ur interviews
Concise and solid overview of Agile software development
I've worked as a software developer in Agile environments since around 2014 and have enjoyed the productivity and quality gains that this paradigm provides. This workplace loosely implements Agile and accomplishes amazing feats of productivity. In this book, Ashar distills Agile concepts into easy-to-read chunks that can be quickly implemented. This book empowers managers to organize their team's work more effectively so that customers can benefit more readily.
Ashar begins this guide by stating that most software shops do not implement Agile and instead organize their work according to so-called "waterfall" principles. This causes significant problems in their management like delays in deadlines and cost overruns. Through iterative work, the Agile movement offers a way out of this morass, and this book presents a concise outline of the details. This movement has matured with success over the years, and multiple options exist for its implementation. The chapter on charting metrics provides especially strong suggestions that were new to me for managing work.
Although most software workplaces stand to gain significantly from Agile concepts, many other descriptions of Agile exist, and this book offers few new concepts to the movement. It simply offers a concise presentation in one place. It would have been nice to have read about how the movement has recently evolved with distributed workplaces under COVID. Here, Ashar presents little on-the-ground research or unique learning, and that is unfortunate.
The intended audience consists of IT project managers, but software developers (i.e., coders) can also gain from learning how to work under this paradigm. Readers should note that every component of Agile organization need not be implemented in every workplace. Books like this should be seen as a compilation of options rather than an exact checklist to work through. Through this book, teams can become self-organizing, and all their members, empowered.
A must read for people preparing for interviews!
The book is essential for the Self-Learning Management Series and is exceptionally helpful for the ones who need to find out about Agile Project Management. The book is fundamentally isolated into Agile Overview, Scrum, Agile Planning, Agile Execution, Agile Tracking and Reporting, Agile Project Management.
Each part got the legitimate depiction alongside settled models and practice works out. Dexterous arrangements with the idea of how a clear work ought to be finished.
In general, a decent book and will be valuable for the ones who need to get more profound information on Agile Project Management and Agile working.
It is one of the main advancement system utilized by the vast majority of organizations to improve and support their business. It incorporates the turn of events and execution of the arrangement and how it will be beneficial to the clients.
This philosophy incorporates the client-driven methodology and focuses more on their advantage and the improvement in business with no obstacles.
From the fundamental idea of a coordinated approach and how to design the business, it was very much clarified in a straightforward way with representations. With every idea, how we need to receive our business was plainly clarified with infographics and outlines. The book summarized the idea in an obvious way. For every section, there was a synopsis and a training exercise with a reference connect to find out about the idea.
The creator clarified about the negligible assets expected to show an effective business to diminishing the additional techniques and focusing on the strategies which are fundamental for the venture. An elegantly composed self-learning book to comprehend the light-footed fundamentals in a simpler and more straightforward way
The book will assist you with understanding the essentials of deft venture the board. It is a decent book to gain proficiency with the regular techniques utilized and the methodologies.