Digital Marketing Essentials You Always Wanted to Know
Regular price
$43.99 USD
Sale price
$31.63 USD
Unit price
per
Sale
Sold out
Share
Digital marketing basics and fundamentals

How to create a content marketing framework

Critical components of social media marketing

Key metrics for digital marketing success
BOOK SAMPLE
Bibliographic Details

Pages: 180 pages

Paperback (ISBN): 9781949395747

eBook (ISBN): 9781949395426

Hardback (Color): 9781949395433

Trim Size: 5.5" x 8.5"

Category: Business & Economics

Author: Vibrant Publishers
Description

A hands-on guide to implementing winning digital marketing strategies that will lead to skyrocketing sales revenues.

The Internet has changed how we communicate, and how we tell our story, including how we market products. From corporate websites, to social media platforms, search engines, and more, there are many ways to reach your market in this digital age. The vast amount of data that can be generated (Big Data) certainly makes marketing management more complex- but also lets you understand your market better than ever before.

Digital Marketing Essentials You Always Wanted To Know includes easy-to-understand concepts, tips, and insights to help you understand how to gain and retain happy customers through the use of digital technologies. This bookwill help you understand the principles that boost marketing productivity, including the tools required to create and implement a winning digital marketing strategy. It shows how to integrate your digital activities across channels to improve your marketing performance.

Whether you are a beginner looking to understand the basics of digital marketing or an expert marketer searching for a way to increase your digital marketing ROI, Digital Marketing Essentials You Always Wanted To Know will help you achieve all of your goals.
About the Author

Vibrant Publishers is focused on presenting the best texts for learning about technology and business as well as books for test preparation. Categories include programming, operating systems and other texts focused on IT. In addition, a series of books helps professionals in their own disciplines learn the business skills needed in their professional growth.

Vibrant Publishers has a standardized test preparation series covering the GMAT, GRE and SAT, providing ample study and practice material in a simple and well organized format, helping students get closer to their dream universities.
About the Series

The Self-Learning Management Series is designed to help students, new managers, career switchers, and entrepreneurs learn essential management lessons and covers every aspect of business, from HR to Finance to Marketing to Operations across any and every industry. Each book includes basic fundamentals, important concepts, and standard and well-known principles as well as practical ways of application of the subject matter.
Editorial Reviews

Digital Marketing Essentials is an essential book for digital marketers and educators. A comprehensive straight to the point guide providing a clear view on digital marketing techniques and framework on what works for beginners to experts alike. An up-to-date mixture of modern and traditional views on digital marketing that is easy to understand with clear concepts and examples.

- Professor Eric Lui, Advisory Board Member - Pace University

 

If you're looking for a well-organized and well-written book on the fundamentals of digital marketing, this book is for you. I'm always on the look-out for new marketing textbooks for my university students across the country, so I was pleasantly surprised when I came across this book. It's a rock solid introduction to some of the most important concepts in marketing today. Best of all, it focuses on the practical
application of digital marketing, not just on the academic theory. Bravo!

- Jamie Turner, Internationally Recognized Author, Speaker and, University Lecturer

 

The textbook is well-written and should give students a good working knowledge of terminology, theory, and practice for implementing digital strategy.

- Joe Stabb, Assistant Professor, Oswego State University

 

In Digital Marketing Essentials, the publisher has simplified the self learning digital marketing fundamentals in an easy-to-understand language for any learner. The book discusses the traditional and modern methods to apply in modern marketing with comparison, and advantages of the modern process. It illustrates how a business owner can grow his/her business with a range of topics such as SEO, online advertising, email marketing, social media, Amazon, Google, e-Commerce, and so much more. You learn how a modern marketer can manage a business from the comfort of his or her own space yet, expands it to the world. In each chapter, the book introduces the learner on how to apply smart content combined with the strategic advertisement, marketing campaigns, or positioning of the content products applying various strategies. Following the lessons, the modern marketer gains the leverage to be unique and educated about the market with an outstanding business plan, recognize the trends, metrics while supplying the demand yet keeping up with a different variety of traffics.

- Afsaneh Mardani, Adjunct Professor, City University of New York

 

Digital Marketing Essentials You Always Wanted to Know is a fantastic addition to the field. As an MBA Professor that has worked with hundreds of students and local businesses around their marketing challenges, many have no clue what is meant by the term "digital marketing" or how it differs from "traditional" marketing. Let me be perfectly clear here – I see digital as part of the P called PROMOTION and it makes me sick that so many in my profession are entirely focused on that one thing. It is critical you know how to do digital more effectively. Reading this book is as if you are sharing a meal with an expert who, as each course is brought to the table, addresses every digital marketing fundamental you must know and understand. Email, SEO, metrics, advertising, conversion rates etc. are all covered. It will get you "up to speed" quickly and give you a jump-off point to start executing the tactics.
Highly recommended for any student looking to "level-up" their understanding of this critical marketing topic.

- Thomas Elmer, Adjunct Professor - West Chester University and Cairn University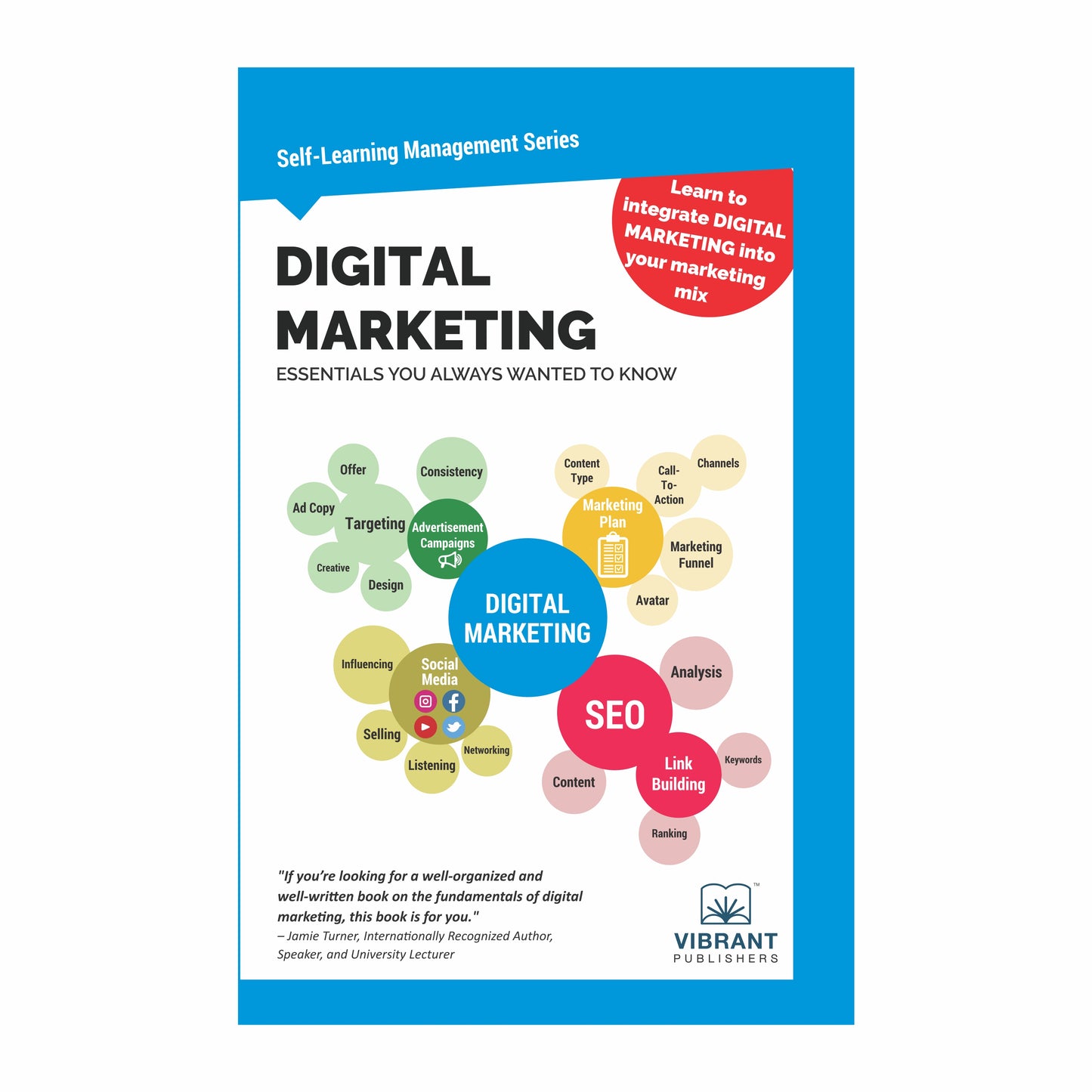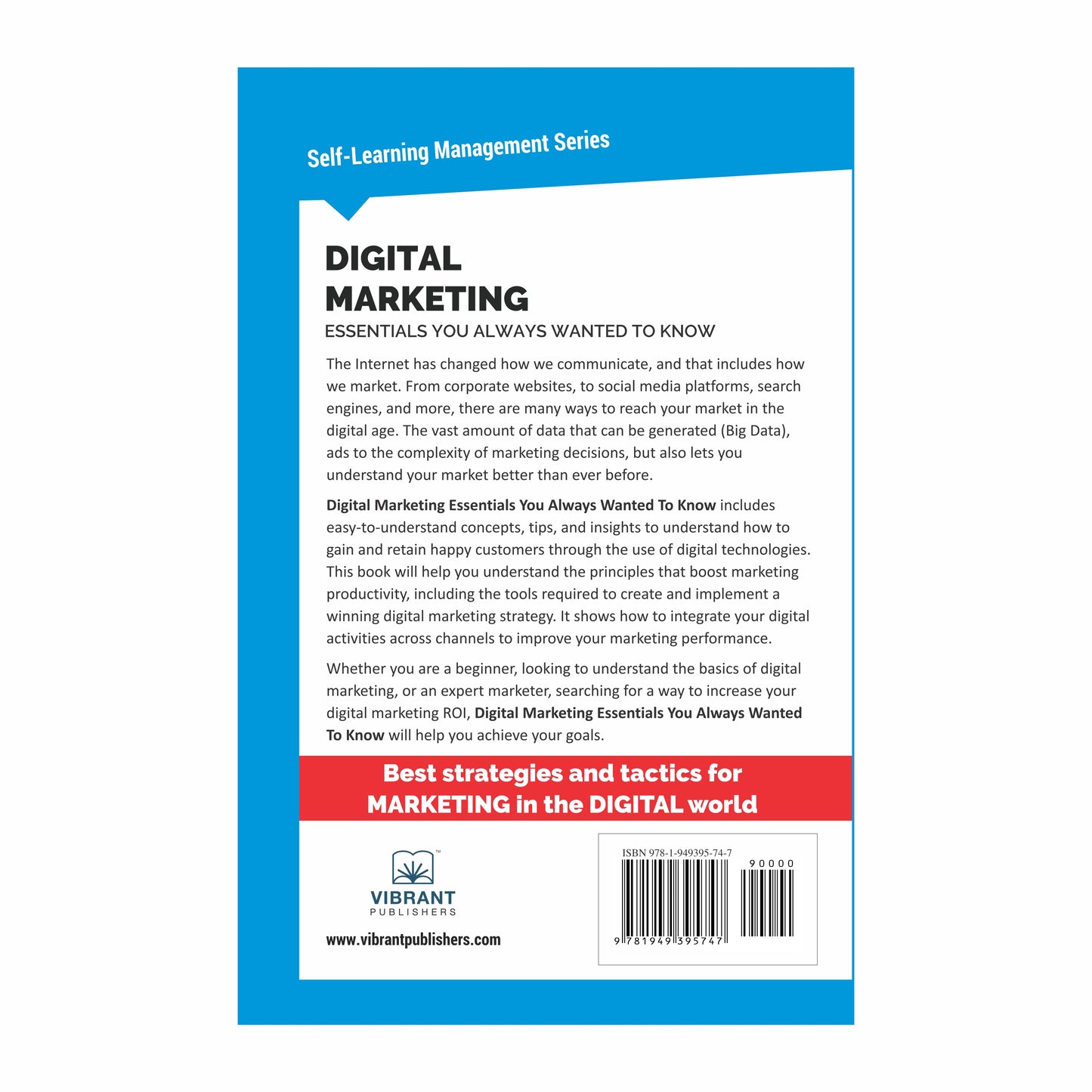 Good quality content with easy explanation
This book gives a lot of concept clarity. It was very easy to understand every concept so it is definitely beginner friendly.
Overall the book is really helpful
All the topics covered are explained in a very simple and easy manner. Specially the SEO topic was explained very nicely.
Really appreciated 🙂
So...if i honestly speak about this digital marketing brief book i got, it really is proven as a great tool to brush up my basics and understanding about the topics i know. It particularly includes all the topics which i search for on web or lerks to learn more about. This even have helped me to truly implement some important things on digital marketing. I really appreciate this book for good.
It really helped!
Must read book!
In short line, this is the best book to learn about digital marketing. It includes every essentials topics of digital marketing of current generation.