Diversity in the Workplace Essentials You Always Wanted To Know
Regular price
$43.99 USD
Sale price
$35.19 USD
Unit price
per
Sale
Sold out
Share
Identity

Historical influence

Organizational Culture

Systemic Change

Equity v/s Equality
BOOK SAMPLE
Bibliographic Details

Pages: 290 pages

Paperback (ISBN): 9781636511122

eBook (ISBN): 9781636511139

Hardback (Color): 9781636511146

Trim Size: 5.5" x 8.5"

Category: Business & Economics

Author: Jaquina Gilbert
Description

A multi-perspective view of diversity and inclusion in the 21st-century workplace

Diversity in the Workplace Essentials is key to understanding how organizations can leverage and embrace talent from diverse backgrounds and create an inclusive organizational culture. For some, there is a clear correlation between the success of an organization and the diversity it embraces. For others, merely hearing the word "diversity" feels like an imposed "buzzword" that makes people antsy about how to get along at work.

Talk about diversity! This book bridges the two perceptions. It discusses the historical influence of diversityin the workplace and explains challenging concepts to broaden diversity literacy. Professionals gain deeper insight into workplace impacts that may have traditionally been overlooked, disregarded, or misunderstood.

The book does not shy away from difficult topics that many organizations encounter. Instead, it teaches that diversity and inclusion are about progress, not punishment. To recognize, respond to, and nurture diversity within individuals that often impact our workplace, we have to first understand the importance that diversity has holistically.

After reading this book, you will understand:

The definition of DE&I
How diversity influences the workplace
The historical significance of diversity
How organizations can best embrace diversity
The difference between equity and equality
How to leverage and embrace diverse talent
About the Author

Jaquina Gilbert has over 20 years of Human Resources experience in multiple disciplines and holds both SHRM and PHR certifications. She has authoredseveral booksand has written HR-related content for business owners, authors, and professionals in various industries. Jaquina received a BBA in Human Resources Management and Organizational Behavior from the University of North Texas in Denton, and an MS in Human Resource Training and Development from Amberton University.
About the Series

The Self-Learning Management Series is designed to help students, new managers, career switchers, and entrepreneurs learn essential management lessons and covers every aspect of business, from HR to Finance to Marketing to Operations across any and every industry. Each book includes basic fundamentals, important concepts, and standard and well-known principles as well as practical ways of application of the subject matter.
Editorial Reviews

This book is an interesting piece of work that comprehensively covers all the necessary aspects of diversity. It is a blueprint that can make any organization successful with chapters on diversity, equity, inclusion, and retaining integrity of identity.

- Ms. Jyoti Kukreja, Assistant Professor, JIMS Kalkaji, Delhi




This is a book that encompasses a lot of key information in an accessible way. The points are organized well. The values of diversity are clearly expressed, with a detailed explanation of its history and background. I recommend this book for school libraries as a faculty reference material and for students' research projects. The context is well thought through and accessible to people belonging to different groups.

- Abby Ahlers, Librarian/Media Specialist, Village Christian School

 

Diversity in the Workplace Essentials You Always Wanted to Know is a great and in-depth book showing a step-by-step view how leaders must sincerely value a variety of opinions, and how organizational culture must encourage openness and make workers feel valued. For any organization that is looking to understand how Diversity in the Workplace looks and feels, I highly recommend this once in a lifetime book gem.

- Dr. Denean Robinson , Adjunct Faculty Member at University of Maryland Baltimore County

 

The topic is fascinating and a crucial issue in HRM these days. The chapters are written in an orderly manner. Everything looks good to me.

- Fariba Azizzadeh, Ph.D., Assistant Professor, Islamic Azad University, Department of Management, Piranshahr (Urmia), Iran

 

The book well conceptualizes diversity in the workplace. In my opinion, the book is well structured, and the author has systematically and lucidly unveiled varied theoretical concepts which impact diversity. The book will help students and readers develop the understanding of the varied effects of diversity at the individual, group, and organizational levels. It is also interesting to see that the book well addresses contemporary matters like the discussion around bias in artificial intelligence.

- Prof. Biju Varkkey, Human Resource Management Area, Indian Institute of Management Ahmedabad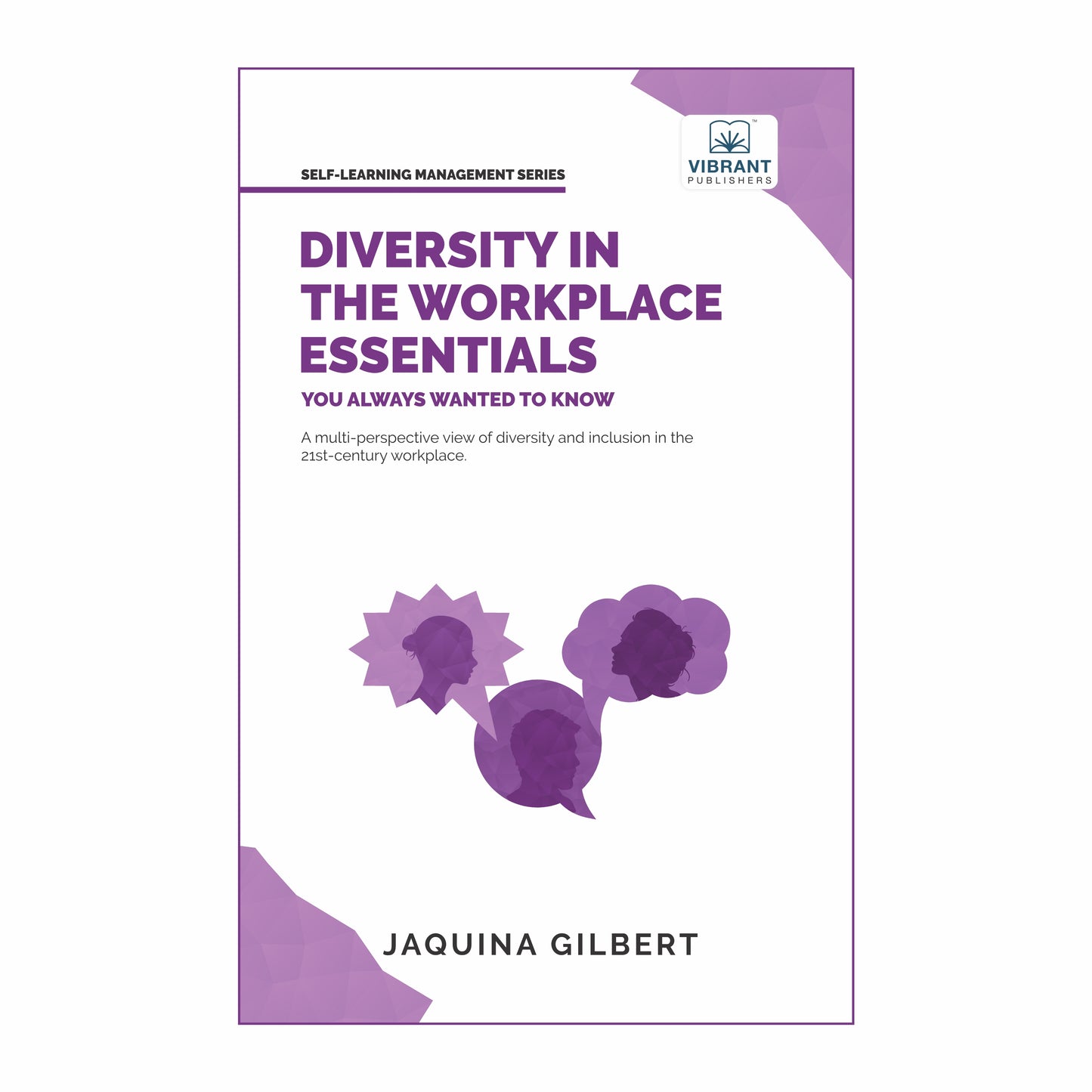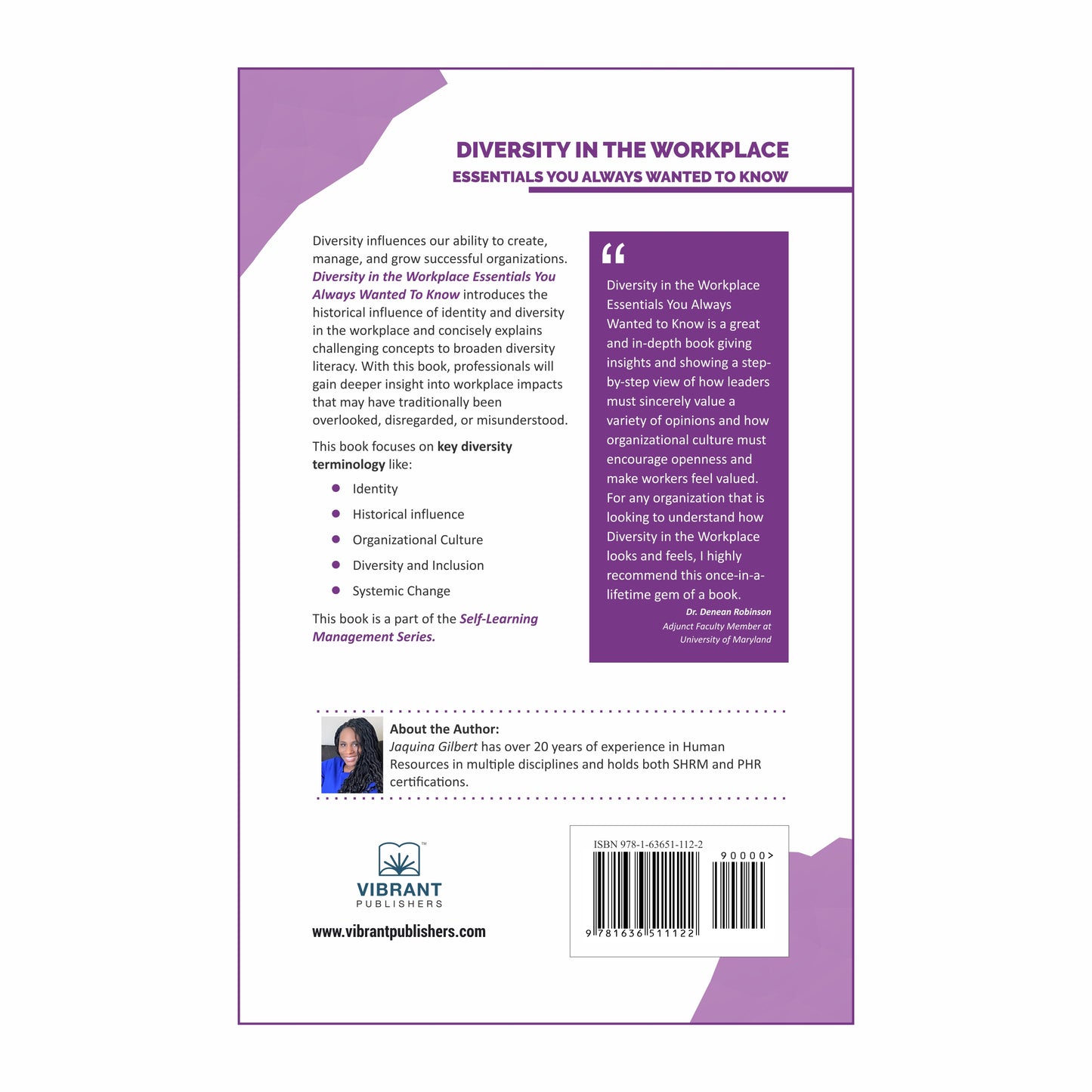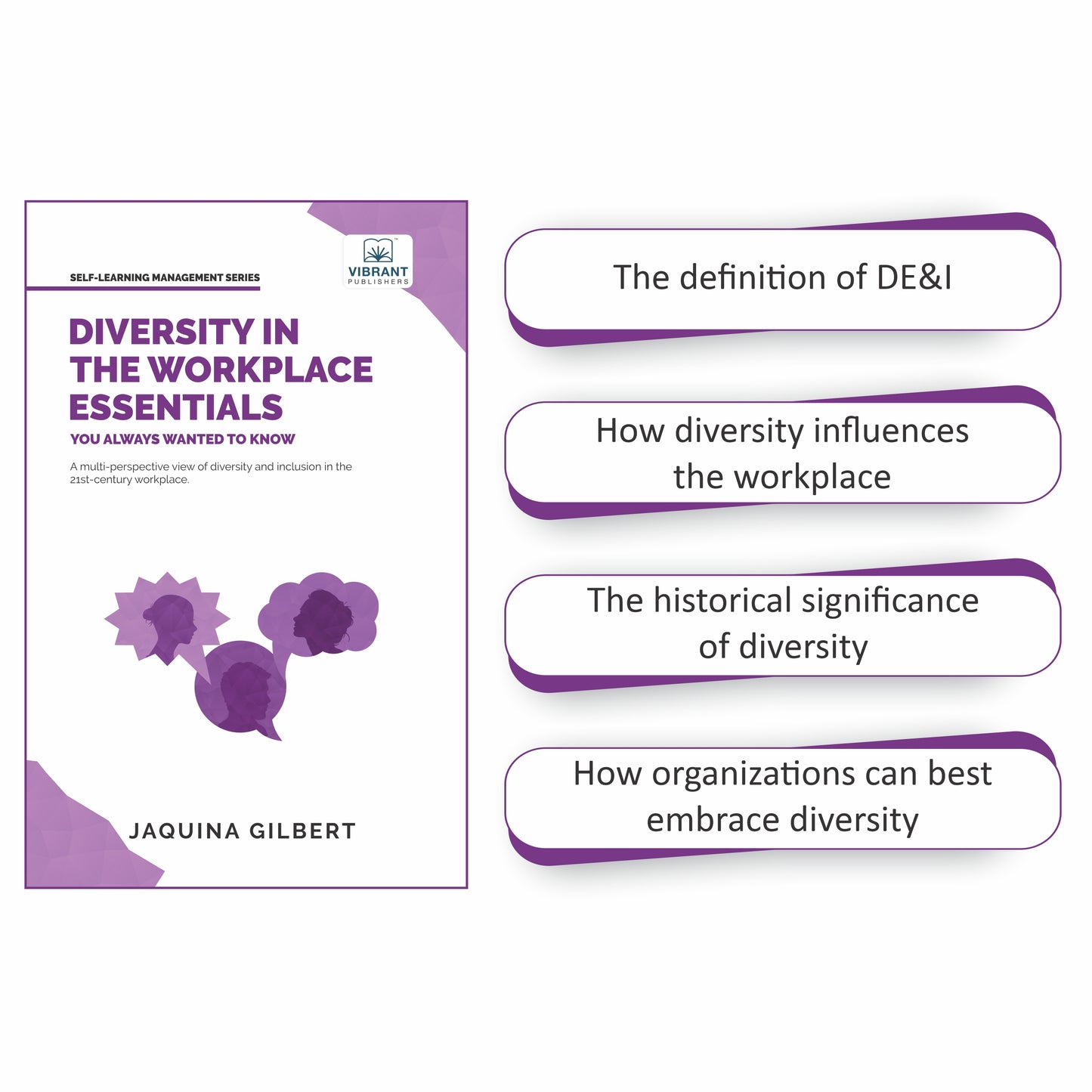 Great book
This book focuses on key diversity terminology like:
• Identity
• Historical influence
• Organizational Culture
• Diversity and Inclusion
• Systemic Change
This book is a part of the Self-Learning
Great
Great book for practice so i recommend every student for twenty pratice set so much for the happy 😁😁😁 for
Great book
If you are shy or and cannon connect to the people of the surroundings in your campus or office with this you can develop skills of doing work with fun with them....
This book can help you in developing your character must buy...
Diversity in workplace
Embracing Inclusion for Success" is an insightful and comprehensive resource for understanding the importance of diversity and inclusion in the workplace. The book covers a wide range of topics and provides practical guidance for organizations striving to create a more inclusive work environment. One of the book's greatest strengths is its ability to explain complex concepts related to diversity and inclusion in a clear and accessible manner. The authors provide a solid foundation by defining key terms and explaining the benefits of embracing diversity. They discuss various dimensions of diversity, including race, ethnicity, gender, age, and more, shedding light on the different perspectives that contribute to a rich and inclusive workplace.
Best
well-written and easy to understand. Such a book is really useful in life. i really enjoyed reading it his writing style is very nice