GRE Analytical Writing: Solutions to the Real Essay Topics - Book 1: 8th Edition
Regular price
$43.99 USD
Sale price
$30.49 USD
Unit price
per
Sale
Sold out
Share
Check Out the New Edition of this Book here!
73 Solved Issue and Argument Topics
Detailed and Expert Strategies to approach the tasks
Scoring Guides
Overview of the GRE (updated after Covid-19)
2 GRE Study Plans (online)
Stress Management Techniques (online)
BOOK SAMPLE
Bibliographic Details

Pages: 444 pages

Paperback (ISBN): 9781636511351

eBook (ISBN): 9781636511368

Trim Size: 8.5" x 11"

Category: Study Aids/GRE

Author: Vibrant Publishers
Description

The 73 solved issue and argument tasks are divided into categories of Arts, Education, Government and Politics, Philosophy, Science and Technology, and Society. This will enable you to practice a wide variety of essay topics and make you familiar with the actual question types in the GRE. Detailed strategies to approach each Issue and Argument task are also included to give you an insight into the process of writing a logically sound essay. These detailed strategies will enhance your critical thinking skills, help you organize your thoughts, and pen them down in a timed environment.

The book also includes an overview of the GRE General Test that will make it easier to understand the format of the test. Additionally, a detailed scoring guide for the two tasks in the book allows you to comprehend the scoring process and gives you a chance to improve your weak areas to get the best possible score!
About the Author

Vibrant Publishers is focused on presenting the best texts for learning about technology and business as well as books for test preparation. Categories include programming, operating systems and other texts focused on IT. In addition, a series of books helps professionals in their own disciplines learn the business skills needed in their professional growth.

Vibrant Publishers has a standardized test preparation series covering the GMAT, GRE and SAT, providing ample study and practice material in a simple and well organized format, helping students get closer to their dream universities.
About the Series

The focus of the Test Prep Series is to make test preparation streamlined and fruitful for competitive exam aspirants. Students preparing for the entrance exams can now access the most comprehensive series of prep guides for GRE, GMAT, ACT, and SAT preparation. All the books in this series are thoroughly researched, frequently updated, and packed with relevant content that has been prepared by authors with more than a decade of experience in the field.
Editorial Reviews

There was a lot I liked about GRE Analytical Writing: Solutions to the Real Essay Topics by Vibrant Publishers. I liked how there were specific examples of situations in literature and in life that could help a person understand an argument. Giving real life examples of how to understand the questions made the questions seem less imposing. I liked how there were writing prompts to give me an idea of some of the questions and answers I could work on writing. I also liked that the book explained how the essays are scored. This breakdown made it very easy for me to understand what areas I need to concentrate on in order to achieve the score that I want within this test. Finally, I liked that there were sample essays. This gave me a really great sense of what to expect. Now I know what a good essay looks like and have something to emulate. Excellent job!

-Janelle Fila for Readers' Favorite


 

We have been using the Analytical Writing books for our students for the last 3 years. I would highly recommend using these guides for all GRE aspirants. Example essays in the books give you a great understanding of the pattern, writing styles, and keywords which are essential to score well on the essay section. The author has done full justice by explaining each topic with pointers, strategies, and a sample essay. Students can go through essays, compile all points, create their own templates, and put them into the right frame to create fantastic essays

-Chinu Vasudeva, Founder          

Doyen-Ed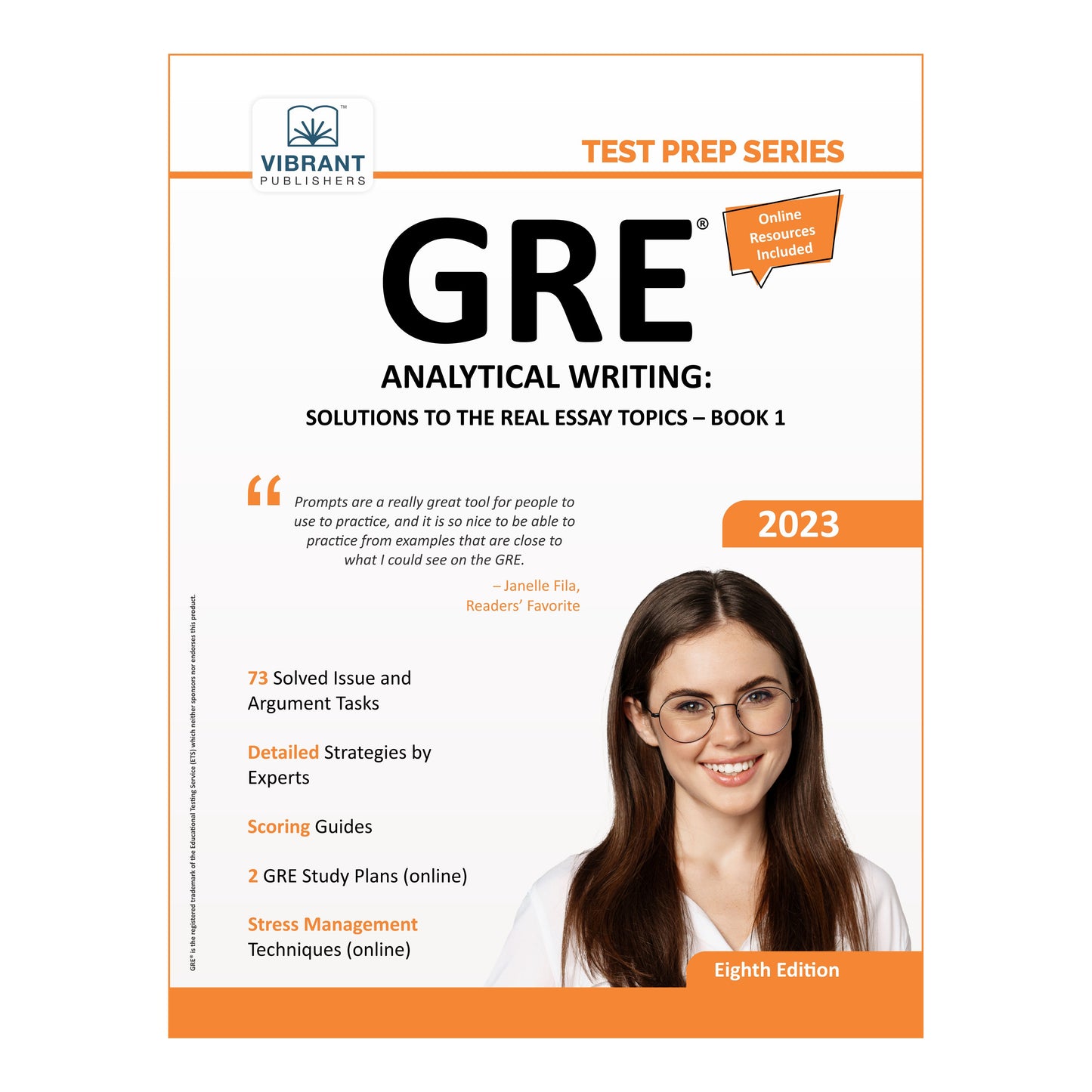 GRE Analytical Writing: Solutions to the Real Essay Topics Book 1
Wonderful book. Thanks Vibrant Publishers.
GRE Analytical Writing: Solutions to the Real Essay Topics Book 1
nice book, recommended A++++++++++++
GRE Analytical Writing: Solutions to the Real Essay Topics Book 1
Great book to help prepare for the GRE essays!! Very helpful strategies and the essays are also detailed. I have read through only few topics yet but will definitely read through all of them. If I get the time to read all the 60 Issues and Arguments, therell be no looking back. I am glad I made this purchase.
GRE Analytical Writing: Solutions to the Real Essay Topics Book 1
This book feels like it has improved my understanding of how the GRE works and allowed me to hone my focus in studying the work required. While I have not taken the GRE to see the results, I do feel more together and prepared.
*Book provided for free in exchange for a review.
GRE Analytical Writing: Solutions to the Real Essay Topics Book 1
Best book for learning analytical writing skill. Best among all books.