GRE Master Wordlist: 1535 Words for Verbal Mastery (2022 Edition)
Regular price
$37.99 USD
Sale price
$37.99 USD
Unit price
per
Sale
Sold out
Share
Check Out the New Edition of this Book here!
1535 essential words for complete preparation
Easy pronunciation guide
Synonyms and antonyms
Sample sentences
Parts of speech
The definitive guide to essential vocabulary for GRE
BOOK SAMPLE
Bibliographic Details

Pages: 200 pages

Paperback (ISBN): 9781636510835

eBook (ISBN): 9781636510842

Trim Size: 8.5" x 11"

Category: Study Aids/GRE

Author: Vibrant Publishers
Description

Preparing vocabulary for the New GRE can be tricky. Students usually don't know how much to prepare and end up wrestling with dictionaries and thesauruses. Not anymore! With GRE Master Wordlist: 1535 Words for Verbal Mastery's expert guidance, you'll be able to master the essential GRE vocabulary in no time. And you don't need to learn many thousands of words for it – just the top 1535. Handpicked by GRE experts having years of experience, these words reflect the core of the GRE exam and promise perfect scores to aspirants who master them. This new edition of the book comes with a set of three exercises in each chapter that will help you solidify your learning. You will be able to take tests, gauge your progress and revise words you've not completely mastered. Ultimately, you will have mastered 1535 words that will help you succeed not only in the GRE but also in your college program and in life.

Here's the learning offered: • The top 1535 words that feature in verbal reasoning section of the GRE • List of synonyms and antonyms, part of speech and three verbal exercises • Sample sentences for using the words in the right context
About the Author

Vibrant Publishers is focused on presenting the best texts for learning about technology and business as well as books for test preparation. Categories include programming, operating systems and other texts focused on IT. In addition, a series of books helps professionals in their own disciplines learn the business skills needed in their professional growth.

Vibrant Publishers has a standardized test preparation series covering the GMAT, GRE and SAT, providing ample study and practice material in a simple and well organized format, helping students get closer to their dream universities.
About the Series

About Test Prep Series The focus of the Test Prep Series is to make test preparation streamlined and fruitful for competitive exam aspirants. Students preparing for the entrance exams now have access to the most comprehensive series of prep guides for GRE, GMAT and SAT preparation. All the books in this series are thoroughly researched, frequently updated, and packed with relevant content that has been prepared by authors with more than a decade of experience in the field.
Editorial Reviews

Reviewed By Mamta Madhavan for Readers' Favorite

GRE Master Wordlist: 1535 Words for Verbal Mastery by Vibrant Publishers is a handy manual for all those readers who are preparing for their GRE exam and need to master the GRE vocabulary. The book has 1535 essential words, an easy pronunciation guide, synonyms and antonyms, parts of speech, sample sentences, and a definitive guide to essential vocabulary for GRE. This manual is a good tool to master the new GRE vocabulary in a reasonably short span of time and will help the GRE aspirants to get a good score. This book has everything in it that will make the GRE aspirants ace their verbal mastery test without much difficulty.

GRE Master Wordlist: 1535 Words for Verbal Mastery is a good way to prepare the vocabulary for a GRE test, and the aspirants need not learn thousands of words, but just the essential 1535 words listed in the book. Learning the words reflected in the book is the best way for GRE aspirants to get the perfect score by building their vocabulary and topping the verbal reasoning section. For all those readers who are planning to write their GRE exam, this book is a good one to own to achieve success. The presentation of the topic is also simple, organized, and easy to follow and that makes the learning process effective. It is a good learning experience for students as the book gives the meaning of the word, its synonym, the antonym, and how it can be used in a sentence.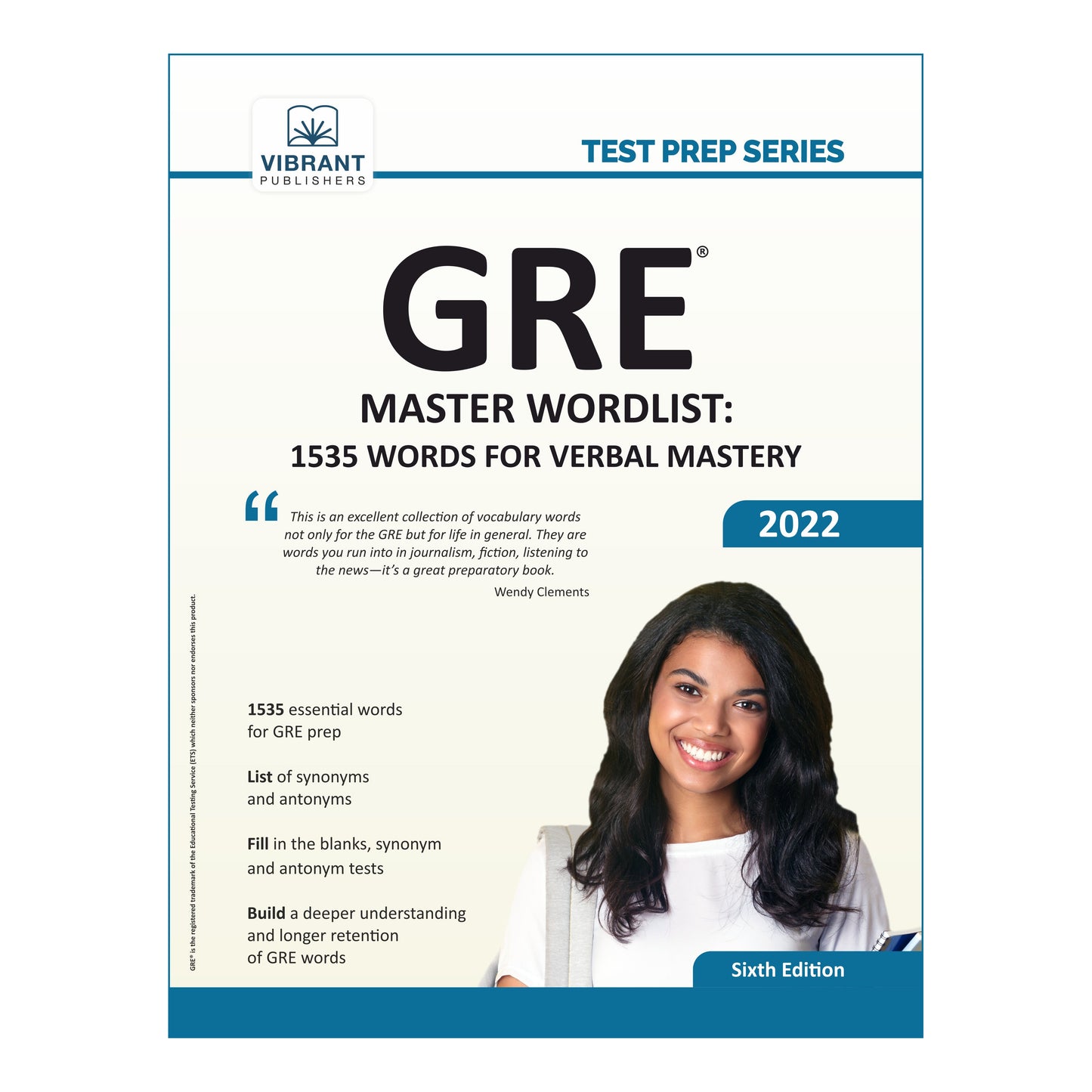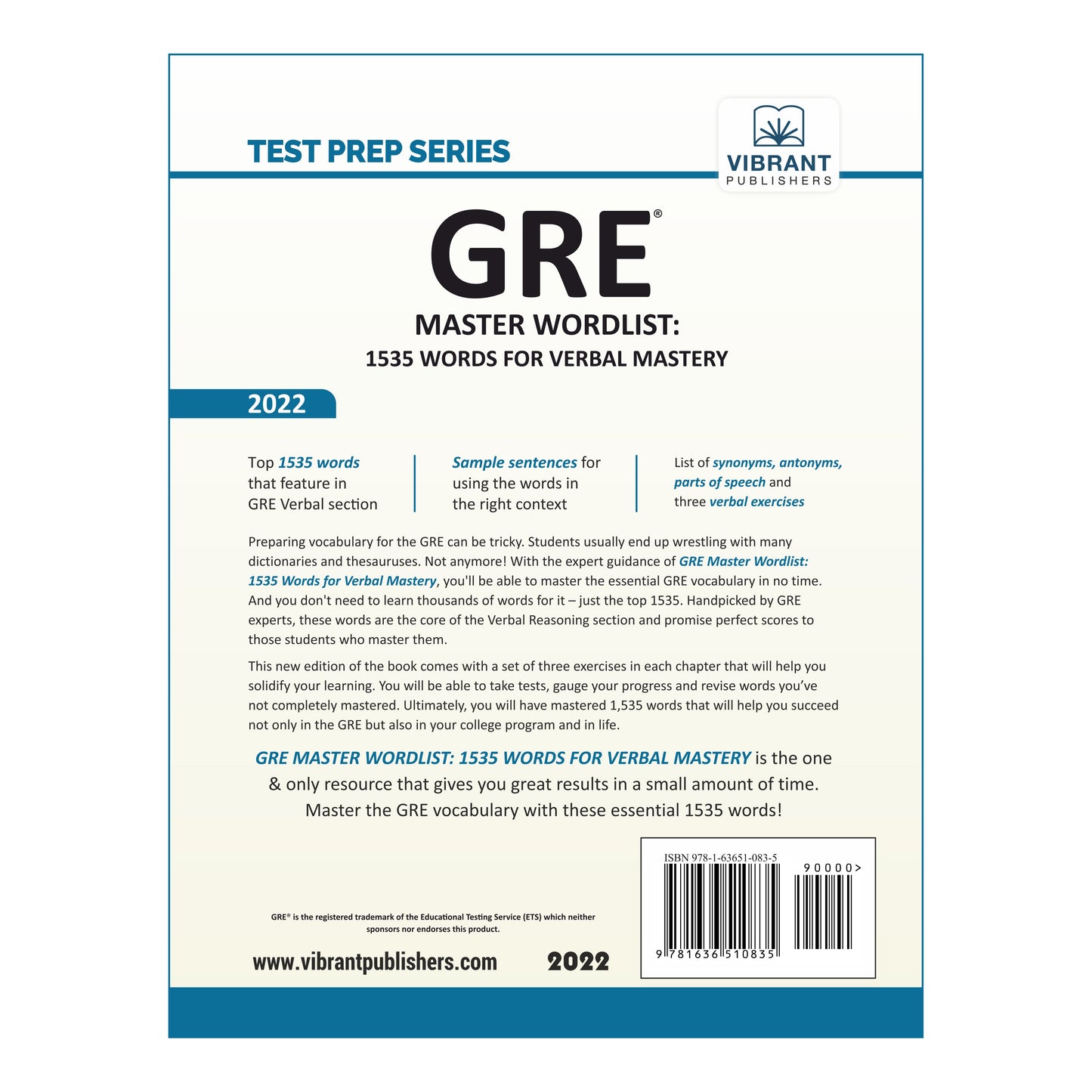 GRE Master Wordlist: 1535 Words for Verbal Mastery (Sixth Edition)
Overall, a great summation of words used, year after year, on what is used in the GRE test. Read the whole thing. I would highly recommend it! Important for the verbal portion of the test.
GRE Master Wordlist: 1535 Words for Verbal Mastery (Sixth Edition)
This is an amazing book to build on vocabulary for the purpose of GRE and for that matter, any such exam. Vocabulary being so vast, students are always lost over what to do and how much. Voila, GRE Master Wordlist is here at your rescue. With the top 1535 important words handpicked by experts, the book provides a wonderful guidance to aspirants. Alphabetically arranged, the words are even accompanied by their synonyms and antonyms, correct pronunciation and sentence usage. I really found this book helpful and recommend it to all.
GRE Master Wordlist: 1535 Words for Verbal Mastery (Sixth Edition)
This is really a great book! Nit just for GRE but also for those who want to learn standard english vocab!
This book is comprehensive and really useful. It provides meanings, synonyms, antonyms as well as proper usage with example which makes it easier to understand and learn new words!
Believe me this one is worth buying.
Talking about the physical characs the book is big in size and good page quality,its not thick so carrying it is easy and also it will not scare you if you dont like fat books
GRE Master Wordlist: 1535 Words for Verbal Mastery (Sixth Edition)
GRE Master Wordlist : 1535 words for Verbal Mastery by Vibrant publishers sums up the need of a fine resource for GRE vocabulary and verbal reasoning section.
The book has been designed in such a way that top 1535 words , chosen by experienced experts of the concerned field have been included.
Vocabulary, as we all know is quite vast and thus, difficult to master thoroughly.
However, with the book to your rescue, aspirants will be able to refer to the most sought after words in GRE exam, along with their synonyms, and antonyms.
Additional qualities like correct sentence usage, part of the speech mentioned, description of the right context to use them, pronunciation etc make the book worth it.
The arrangement of Wordlist is alphabetically, making it easy to use and understand.
In my opinion, the book might prove to be useful in other entrance and job related examinations as the content is well selected and presented ; suitable for various competitive exams.
Overall, an effective resource to enhance verbal reasoning and vocabulary for GRE aspirants.
GRE Master Wordlist: 1535 Words for Verbal Mastery (Sixth Edition)