GRE Analytical Writing Supreme: Solutions to the Real Essay Topics
Regular price
$49.99 USD
Sale price
$34.99 USD
Unit price
per
Sale
Sold out
Share
Check Out the New Edition of this Book here!
145 Issue and Argument Tasks
Expert Tips and Strategies
Scoring Guide
Overview of the GRE (updated after Covid-19)
Overview of Analyze an Issue and Analyze an Argument Tasks
Printable Answer Sheets (online)
GRE Stress Management book (online)
6-month and 8-week study plans (online)
BOOK SAMPLE
Bibliographic Details

Pages: 855pages

Paperback (ISBN): 9781636511436

ebook (ISBN): 9781636511443

Hardback (ISBN): 9781636511450

Trim Size: 8.5" X 11"

Category: Study Aids/GRE

Author: Vibrant Publishers
Description

To get a comprehensive practice of the Analytical Writing section of the GRE, this book is all you need. The book is filled with official 72 Analyze an Issue and 73 Analyze an Argument prompts with sample essays. The sample essays, written on a wide variety of topics, show what high-scoring essays in the GRE look like.

Before the sample essays, elaborate strategies fordeconstructing the prompts,weighing their pros and constoform an opinion, andconsidering alternative opinionsare also given. These strategies will enhance your critical thinking skills and give your brain a healthy workout.

Apart from this, the book contains all the information about the GRE General Test and the two tasks. A detailed scoring guide containing information on the areas checked in the essays is also given. Lastly, tips and tricks are also provided to practice writing your own essays on printable answer sheets provided online.

Additional Online Resources You can access a GRE Stress Management ebook that is available online. This book is filled with tips, strategies, and study plans to help you crack the GRE!
About the Author

Vibrant Publishers is focused on presenting the best texts for learning about technology and business as well as books for test preparation. Categories include programming, operating systems and other texts focused on IT. In addition, a series of books helps professionals in their own disciplines learn the business skills needed in their professional growth.

Vibrant Publishers has a standardized test preparation series covering the GMAT, GRE and SAT, providing ample study and practice material in a simple and well organized format, helping students get closer to their dream universities.
About the Series

The focus of the Test Prep Series is to make test preparation streamlined and fruitful for competitive exam aspirants. Students preparing for the entrance exams now have access to the most comprehensive series of prep guides for GRE, GMAT, and SAT preparation. All the books in this series are thoroughly researched, frequently updated, and packed with relevant content that has been prepared by authors with more than a decade of experience in the field.
Editorial Reviews

The GRE Analytical Writing Supreme: Solutions to Real Essay Topics is a fantastic guide for those looking to take the GRE. It provides excellent examples of essays and gives test takers practical information to help them obtain higher test scores. The book is fairly comprehensive and should be easy to use for anyone. Would make an excellent addition for the library's test prep section.

– Jes Carter, Idaho Falls Public Library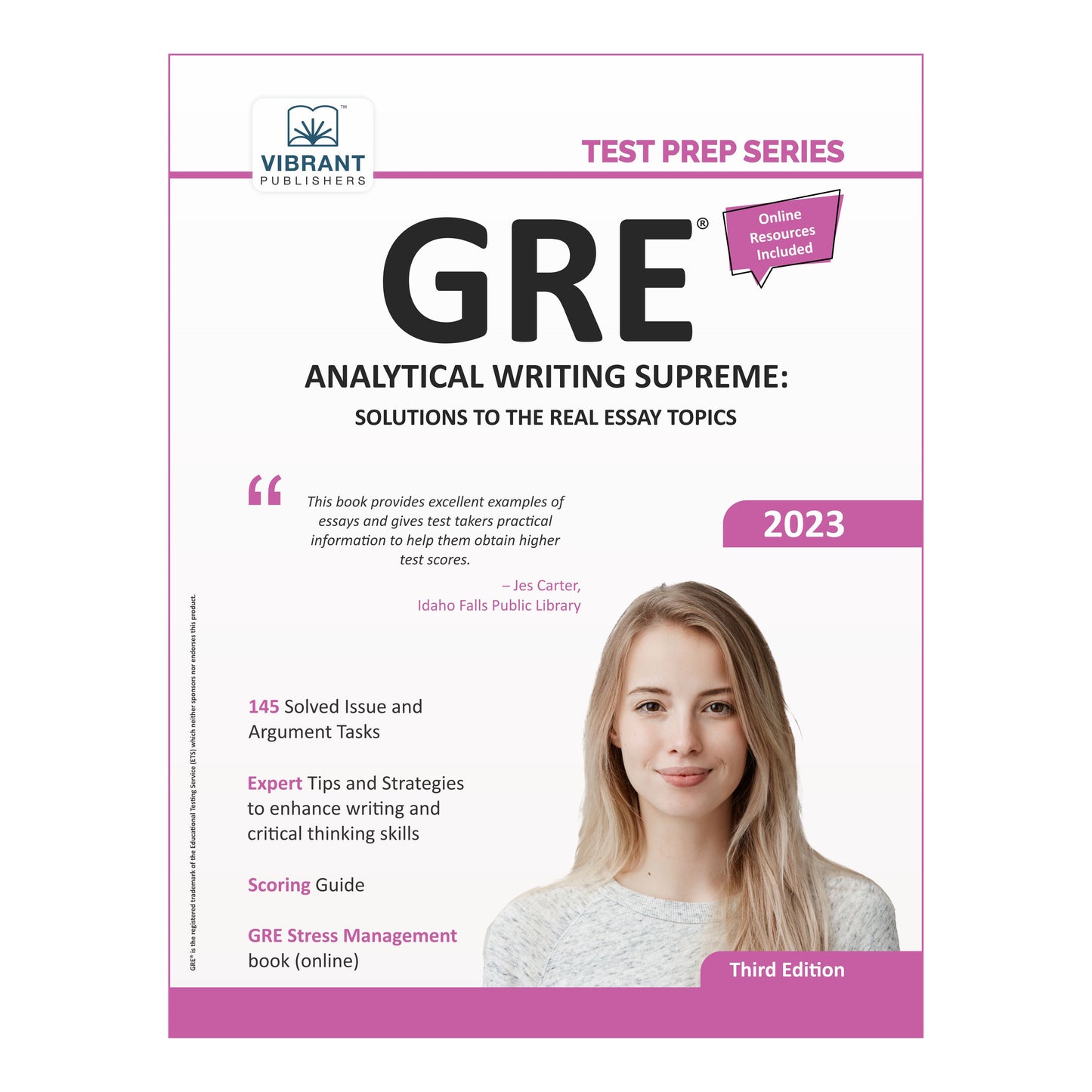 Gives you a thorough idea about issue and argument essay writing in the GRE!
This GRE Analytical Writing Supreme guide for essay writing at the GRE is very helpful. As it provides 145 issue and argumentative essays, you get a detailed idea about how and what to write in both the types of essays i.e. how to start and end the essay, what and how much content to put into a essay, how to approach the given prompt, etc.
A proper system or say structure is provided in the essays, so that you can follow the same and save time while writing the essays at the GRE. Reading 145 essays from the guide in itself will imprint a set of instructions in your mind as to how an argument / issue essay is written.
Overall, this guide by Vibrant is helpful for getting confidence and understanding the structure of both the types of essays that we have to write in the GRE.
A good practice book!
I took the GRE many years ago and am considering taking it again to enter a PhD program in the future. Overall I am very impressed with this preparation book. I appreciate that this guide includes an overview of the GRE General test. It is very thorough and user friendly. I like that the book includes general strategies and scoring guides for the essays. There are many examples of tasks across various topics. The general questions to ask yourself in the organizing and planning process are very helpful. I appreciate the similar structure and repetition of each example task. With practice, approaching the task with that same framework will be natural allowing the test taker to thoroughly respond to the prompt. Since it has been many years since I took the test, I appreciate that this book includes information about the post COVID test. There are many books in this series which allows the test taker to prepare for each part of this test, as well. I remember studying for this test and my study guide mainly focused on the Verbal and Quantitative portions of the exam. I missed out on the opportunity to prepare for the essay. It is great to see an entire book dedicated to it! Thank you!