Digital SAT Reading and Writing Practice Questions
Regular price
$59.99 USD
Sale price
$26.99 USD
Unit price
per
Sale
Sold out
Get your hands on one of the first books providing a thorough practice of the Reading and Writing section of the Digital SAT! This book will give you comprehensive practice of the new Reading and Writing practice questions designed according to the latest guidelines for the Digital SAT.
You will have access to an extensive question bank that will familiarize you with the different types of questions and their latest format. Some of the key benefits of using this book are:
Practicing with a bank of 300 Reading and Writing questions
Getting exposed to a variety of questions from different domains
Enhancing the learning process with detailed answer explanations and distractor explanations
Attempting and improving at solving questions of various difficulty levels
Familiarizing yourself with the latest information about the Digital SAT
Digital SAT Reading and Writing Practice Questions will help you take your preparation for the digital test up a notch. It is one of the first books to comprise questions according to the new format and brings a 360-degree learning experience for you. 
The questions are designed by SAT experts by following the latest guidelines. All 300 questions have answer explanations that will help you understand why an answer is correct. To go a step ahead, it also has explanations of incorrect answers. You will also find all the latest and necessary information about the exam pattern, question format, time limit, etc in a separate chapter. 
Check out the Digital SAT Math Practice Questions and Practice Tests For The Digital SAT books to be fully prepared for the test. 
This book is part of Vibrant Publisher's Test Prep series which makes test preparation fruitful for test takers of SAT, ACT, GRE, and GMAT.
SAT® is a trademark registered by the College Board, which is not affiliated with, and does not endorse, this product.
BOOK SAMPLE
Share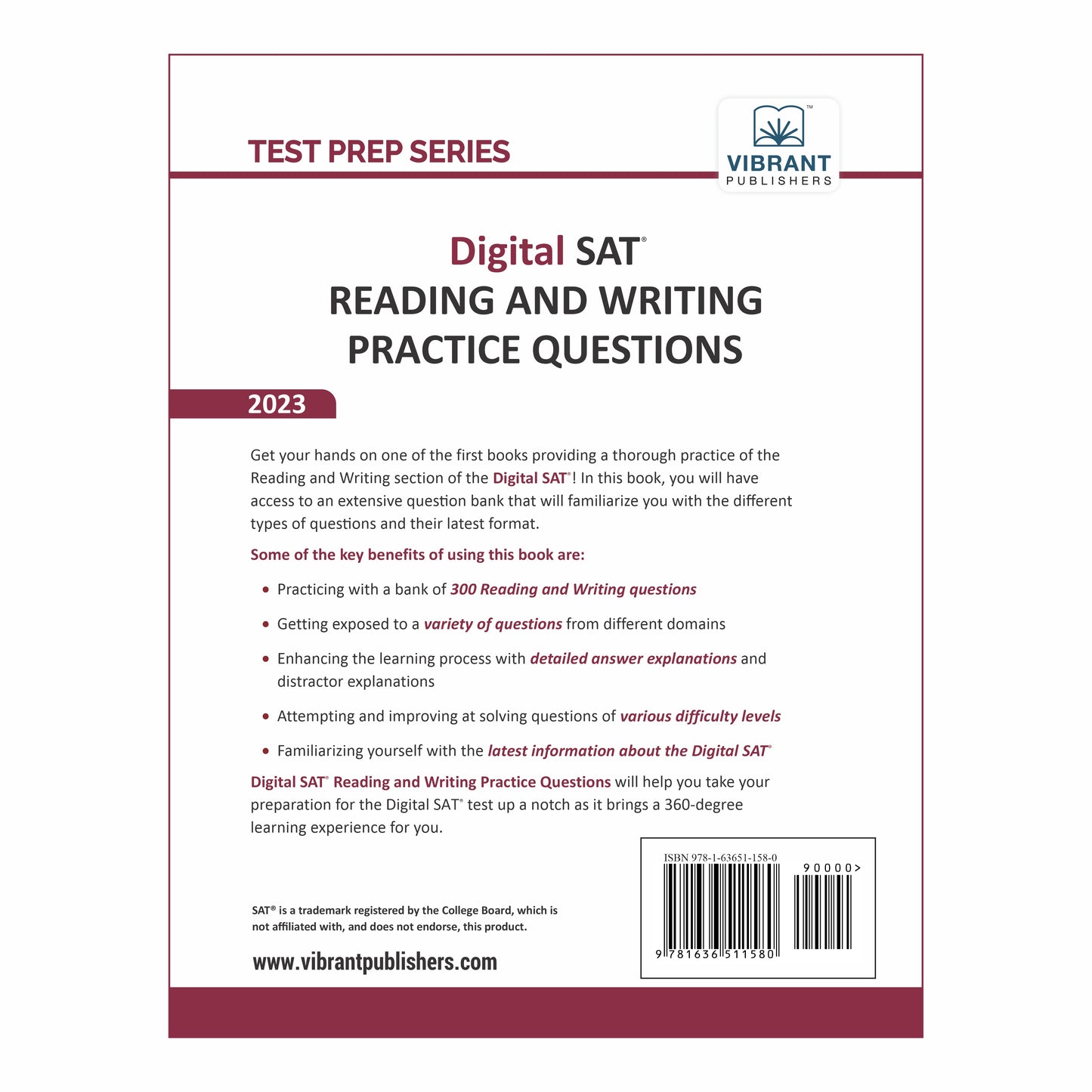 Different style than the SAT
The overall experience with this book was good.
However, I feel the style of this book is very different to that of the actual SAT and thus missing the point of being a decent source to practice out of.
Hello. I used your Reading and Writing book. The book was really suitable for self-studying; each question, even each variant, had understandable explanation. I did 300 questions within 3 weeks without any teacher/adult help. I believe that it will have an effect on my result.
Day before exam I did Mock Test. The test was very close to real exam and it reduced my stress. That was a kind of motivation before the exam day when you can't do a lot things.
I really appreciate you for your help - your books, mocktests and whatsapp group - for students who have few resources for SAT preparition.
Thank you very much, Vibrant Publishers!
You will know almost immediately if this book is of interest. For those who are planning to take an SAT and feel the need to practice, this will certainly be a welcome title. It focuses on the new digital version of the exam.
Included is information on this test version along with sample questions. Going digital is a moment of change for the College Board. As an example of this changes, it is noted that there will no longer be extended reading passages. Those who are taking the test will certainly want to know about Multistage Adaptive Testing and other topics covered in the introduction such as the scoring.
There are sample questions with detailed explanations of the correct answer and why that answer is the best choice. The section on distractor explanations is interesting and helpful.
So, to be ready if planning to take this version of the test which will be offered starting in fall 2023, give this title a look.
I appreciate the order of the questions with the divisions (Information and Ideas/ Craft and Structure/Expression of Ideas/Standard English Conventions) and their subdivisions. I believe that for a student or a teacher helping students, these divisions are of great benefit.
I also appreciate the different kinds of genres depicted in the questions. The "key explanations" for the correct answers were on point and I appreciate the inclusion of the distractor explanations as well. The inclusion of the "difficulty level" and "Skill/Knowledge" is great.
Overall, I would recommend this book to students and teachers because of its breadth, depth, and organization.
The questions are in the SAT style and well explained and they cover most question types on the Digital SAT.